While 4K cameras of one sort or another seemed ubiquitous at NAB, true 4K or even UHD field monitors were anything but.
At the large booth of a leading monitor vendor, 4K monitors were conspicuous by their absence. As one rep explained, "There isn't a lot of demand yet for 4K LCD monitors, especially 30-inch ones costing over US$20,000. Most of our customers are still mainly shooting HD and most of those shooting some 4K are monitoring in HD, at least in the field."
Another monitor vendor, TV Logic, did have some 4K options. Its 31-inch LUM-310A supported native 4K resolution and Rec. 2020 colorimetry and comes in at $20,000 while a scaled down model only supported Rec. 709, HD colorimetry.
While Panasonic and Sony, and perhaps other major manufacturers, had at least one monitor each in the same 30-inch to 40-inch range, they weren't featuring them, or their costs.
The only truly compact 4K monitor this correspondent ran across at NAB was a 12″ LCD by AstroDesign, the DM3413 (pictured, below). Technically it's an UHD monitor, with maximum resolution of 3840 x 2160, but in a 12-inch frame, it looked amazingly sharp. The company also had on hand a matching 12-inch 4K waveform monitor, the WM3206, which supports Rec. 2020, or true 4K, colorimetry.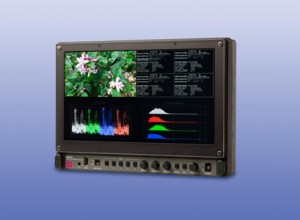 AstroDesign also featured a new, improved electronic viewfinder (or EVF) particularly geared for high speed Phantom cameras such as the 4K Phantom Flex. It currently supports resolutions up to 1080/60p, but could support 4K in the future and is half the size and the price of its predecessor, which is the standard EVF for most Phantoms.
Small HD created a big buzz with its Sidefinder (pictured, top of page), an EVF/ on-camera monitor the size of an iPhone. But with 441 pixels per screen inch, it looked ultra HD in resolution and color-wise. Moreover, the Sidefinder opens like a door to reveal an equally sharp, rich 5-inch screen.
Transvideo responded with its Starlite HD, a sharp 5-inch monitor with a removable 3x eyepiece. Transvideo is developing touchscreen controls for use with all Alexa cameras including all of the new 4K models.
Ultra-compact 4K recorders with HD resolution screens were also plentiful and very popular with shooters and camera manufacturers because of how they enhance the capture capabilities of many hot cameras at NAB 2015 such as Sony's FS7 and AJA's Cion.
Convergent Design's Odyssey 7Q and Atomos's Shogun both vied for buzz leaders. The Odyssey 7Q is essentially an 800p HD monitor, with rich colors and blacks that also records 4K/UHD/ 2K/HD at much higher frame rates than 4K cameras can do alone. However, it also includes features such as image analytics, LUT monitoring and more for less than $3,000. Almost buried in the buzz over Odyssey was Convergent Design's announcement of Athena, "the first standalone, tapeless player/recorder deck capable of 4K/UHD 60p, 2K/HD 60p, and Multi-Stream (even in 4K), with 4 HD(or one 4K) video streams and 64 (MADI) audio channels."
Atomos' Shogun is a 1200 x 1920p full HD touchscreen monitor that displays UHD and records it in several codecs up to 30 fps and HD to 120 fps, and plays and downconverts UHD – all for $2,000.
Sound Devices featured three HD monitor/ 4K recorders within its PIX-E series that record ready-to-edit ProRes 444. The monitor boasts fast focus speed, false colors, zebras, waveform monitor and vectorscope, and uses Gorilla glass and die-cast metal housings for rugged field use.
If NAB 2015 made anything clear it's that the industry is ready to capture, record and display 4K in a dazzling variety of ways, but what about editing it? While Adobe Premiere and After Effects have been capturing and working with 4K imagery for at least several years, at NAB, Adobe Everywhere was touted as a more effective way of collaborating locally and nationally, via shared storage networks all using the same Adobe software, servers and storage.
Avid promoted a very similar concept called Avid Everywhere which requires sharing a complete ecosystem of servers, storage, networking, media asset and workflow management. With Media Composer v. 8.3, 4K and even higher resolution can now be supported, presumably within Avid Everywhere as well.
Autodesk showcased the latest versions of its flagship media and entertainment software – Maya, Smoke, Flame and Shotgun – all of which are 4K compliant and are now available on a subscription basis.
Sony also highlighted its 4K workflow tools developed by Sony Creative Software such as Catalyst Browse and Catalyst Prepare, used for reviewing, selecting, organizing and transcoding media from Sony and other cameras. Catalyst Edit can handle 4K and Sony RAW as quickly and efficiently as HD and integrates closely with Catalyst Prepare for speedy workflow.
Blackmagic Design added many new features and capabilities to Da Vinci Resolve 12 – from 3D keying and tracking, to pro audio and plug-ins, and numerous trim modes – for NAB 2015, much of which is still a free download in a "Lite" version.
Blackmagic also introduced new 4K post tools such as Intensity Pro 4K for capturing UHD and HD, UltraStudio 4K Extreme, Decklink 4K Pro and Teranex 12G SDI Converters for downconverting and upconverting 4K/2K/HD video as needed.
AJA also introduced a series of mini-convertors at NAB, many of them for such 4K applications as converting 4K and Ultra HD to and from digital optical fiber and for integrating Ultra HD and HDMI devices into HDSDI workflows – a challenge that we'll all be facing soon enough.