Part2 Pictures' David Shadrack Smith and Harpo Studios' Jon Sinclair tell realscreen about the three-year production story behind Belief, the seven-part OWN miniseries that became a passion project for Oprah Winfrey.

Pitching a project to Oprah Winfrey is not unlike being a guest on her talk show.
Three years ago, producers from Brooklyn-based Part2 Pictures met with the TV personality-turned-network mogul; the president of her Discovery-co-owned cable net OWN Sheri Salata; and Harpo Studios executive producer Jon Sinclair in New York to pitch a miniseries that would explore belief systems around the world.
After playing a sizzle reel, Part2 founder David Shadrack Smith prepared for the usual follow-up questions about logistics, budget numbers and casting that execs generally pose in pitch meetings. Instead, Winfrey wanted to know something else.
"What do you believe?" the OWN CEO asked.
The personal question caught Shadrack Smith off-guard.
"It stumped us for a moment. But as we delved into it, we realized the point of this series is that everyone who watches gets to ask that question," he recalls. "That was at the heart of what she wanted to get at with this series, and it came out right at that very first meeting."
The 10-minute pitch meeting turned into several hours of discussion about the meaning of life, which turned into a three-year production encompassing four directors and more than 800 hours of footage shot with 13 different of cameras.
The resulting seven-part series, Belief, premieres on Sunday (October 18) and airs nightly on OWN through October 24. It is a blue-chip-type look at the deeply personal motivations behind different spiritual practices, and each episode features up to five stories that make connections between seemingly disparate traditions.
"By the time Belief was done, we had built up the audience eyes on [OWN] to be able to do a seven-day stunt. This idea wasn't on some hidden whiteboard on a roll-out plan. That was never the case."
- Harpo Studios' Jon Sinclair
Building up to Belief 

The first episode is called "The Seekers" and opens with a young woman's river baptism in Alabama before traveling to Kumbh Mela, a gathering of 70 million Hindus on the banks of the River Ganges; a Bar Mitzvah in Budapest; and finally to a remote corner of the Australian outback where an Aboriginal grandfather is passing ancient traditions on to his grandson.
"Our series probably fits less into a religious programming genre than it would [fit into] something like a Planet Earth," explains Shadrack Smith. "It isn't about faith or religion; it's about our planet and our whole human endeavor to understand who we are and where we came from and where we're going."
The idea of using someone else's story as a means to look inward was an idea that came up often over The Oprah Winfrey Show's 25 seasons. When Winfrey ended the daytime talk show and launched OWN in 2011 with Harpo Productions and Discovery Communications, the idea was to extend the self-help focus into 24/7 programming.
Ratings sagged and eventually the network brought on more scripted programming with producer Tyler Perry, such as The Haves and Have Nots; reality fare such as Iyanla: Fix My Life; and the Winfrey-conducted interview series, Oprah's Next Chapter.
This past spring, OWN delivered its most-watched quarter in the network's history with 581,000 viewers – up 44% compared with the first quarter in the previous year.
While Winfrey was working to turn around the OWN ratings slump, she took on Belief as a kind of passion project. She financed it herself, and worked with Part2 and Harpo to oversee development, casting, production and story editing.
For Harpo's Sinclair, Belief hearkens back to The Oprah Winfrey Show's goal to inspire personal reflection through other people's stories.
"You're able to see yourself in someone else who happens to be on TV, so we didn't want to go down the road of interviewing experts, theologians, pastors and preachers with agendas," he explains.
"By the time Belief was done, we had built up the audience eyes on the network to be able to do a seven-day stunt," he adds. "This idea wasn't on some hidden whiteboard on a roll-out plan. That was never the case."
A geographic "jigsaw puzzle"
Shortly after the initial pitch meeting, OWN and Winfrey greenlt Belief into production. Part2 spent six months in development, scouting locations, casting and crafting a style guide for the series that its four production units headed by directors Shadrack Smith, Michael Davie, Eric Strauss and Peter Richardson would adhere to.
Producers also mapped out major events taking place over the 10-month production, such as Kumbh Mela, the Burning Man festival and the Muslim pilgrimage to Mecca.
"It was a big jigsaw puzzle of trying to be geographically diverse, find the best stories, the people with the most interesting stories and then fitting it all into these themes that illuminated the life cycle of belief," says Shadrack Smith.
Meanwhile, Winfrey was looking at rushes, Skype interviews and casting reels. Stories were being pursued, cut and moved around right up until earlier this year.
Her notes to Part2 focused a lot on keeping the impetus behind Belief – that people are more alike than they are different – at the core of creative decisions happening in the field.
"She gave notes on whether potential ideas helped create what she called the 'best of belief,'" says Shadrack Smith. "We talk about conflict and the role of belief in war, for instance, but ultimately this was about looking beyond what divides and looking towards what unites."
Securing access and visualizing belief
Part2 prides itself on telling intimate, journalistic stories with unique access into often closed societies. This is the focus of Part2′s Our America with Lisa Ling, which aired on OWN before moving to CNN and rebranding as This is Life with Lisa Ling.
Producers managed to negotiate access into New York City's close-knit Hasidic Jewish community and traveled to far-flung locales such as Pentecost Island in the South-Pacific island nation of Vanuatu, the remote Australian outback and the ALMA Observatory that is 16,000 feet above Chile's Atcama Desert.
"Filming in Mecca was not a sure thing," says Shadrack-Smith. "I was never sure until we landed, and even after we landed in Mecca I wasn't sure we were going to be able to film there."
It was critical that the stories had a visual coherence so producers came up with a rigorous style guide during pre-production. One simple choice was having interview subjects speak into the camera as if speaking directly to viewers.
More complicated was visually representing something as intangible as someone's beliefs. To do that, the crews focused on filming people as they practiced their beliefs.
"Another way we did that was to create the divine moment where belief is most present in someone's life," says Shadrack Smith. "We used a lot of techniques like the Phantom camera and time lapses to show the eternity of a place or a moment."
Cinematographers also shot with a variety of cameras, including cinecranes, Cineflex helicopter mounts, and camera rigs modeled after the Interrotron-style made famous by Errol Morris.
Fortunately, since Belief was being produced somewhat outside OWN's usual pipeline, with hands-on oversight from Winfrey, producers were not pushed into a break-neck production schedule.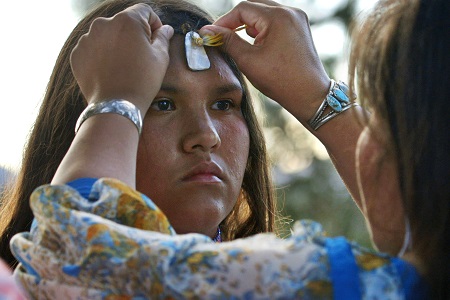 "There wasn't a rush, rush, rush mentality," says Sinclair. "It was, get in there, get to know the people and spend the time with them."
During editing, bulletin boards in Harpo's Chicago office and Part2′s Brooklyn office mapped out the story structure. In all, 29 stories were shot and two ended up on the cutting room floor.
Although OWN is waiting to see how Belief performs before proceeding with a follow-up, Part2 plans to continue pushing programming that balances personal storytelling with high-end visuals. The company has projects for LMN and Showtime in the works, as well as a third season of This Is Life.
"The pendulum has shifted away from reality – unscripted that is actually scripted – and people can tell authentic stories that feel fresh and not prescribed in some formatted way," says Amy Bucher, Part2′s VP of programming and content. "I sense only a growing market for that from where we sit. I think the response to This Is Life and Belief and other work [will] encourage us to reach even deeper into that kind of storytelling."
Perhaps more importantly, three years after Winfrey asked Shadrack Smith what he believes, he has an answer for her.
"In the pitch, I didn't answer that question but I figured out how to talk around it," he says. "While making the series, it became important for me to put some kind of ritual practice in my life, whether it was gathering with my family once a week or doing something to create space for that meditative possibility of thinking of higher questions and higher ideas. I went in with a question of, 'What do I believe?' and I came out with a stronger sense of the role beliefs play in our lives."