A+E Networks' Robert Sharenow took to the stage on Wednesday (Jan. 25) at the Realscreen Summit in Washington, D.C. to talk about the accomplishments at network's flagship channel over the last year with groundbreaking series such as Live PD, Leah Remini: Scientology and the Aftermath and 60 Days In.
The Lucky 8 TV-produced docuseries 60 Days In, for instance, sent law-abiding citizens undercover into an Indiana jail rigged with cameras for two months in order to help the sheriff suss out illegal activity among inmates and corruption among his staff revealed through more than 100 hidden cameras.
"When 60 Days In came in, I was like 'We just did this amazingly, powerful, successful prison show. Why should we do this?'" Sharenow said, referencing his time as part of the development team on seminal prison series program Beyond Scared Straight.
The team behind the series, according to the A&E exec, was emphatic about the importance of the series, the ways in which it differed from previous docuseries located within prisons and about what it would add to the conversation of prison reform.
"We, as a company, have always prided ourselves on trying to lead and not follow," said Sharenow, EVP and GM for A&E and Lifetime, in a keynote conversation with Left/Right's Banks Tarver.
Another example of that philosophy, Sharenow noted, was History's Pawn Stars. Prior to becoming the runaway series that it is, the docuseries was pitched as a docuseries that would chronicle the antics of a family of second-hand hawkers.
The program's casting tape, however, continued to kick around to a number of production outfits before landing in the capable hands of Leftfield Pictures and Lifetime Television exec Mary Donahue, who at the time was serving as VP of development and production at History.
"When it got to me, it was a better version of Antiques Roadshow, but that's not what was pitched. It was only through the development process that it became something truly extraordinary," Sharenow explained. "It was really the work of visionary producers, Mary and David McKillop who saw something that could be special.
"Networks have responsibility to put out things in the world that they believe in. A&E does have a really high standard," he added.
However, part of what some of A&E's highest rated series do is show how difficult things are for the individuals featured within. While Intervention isn't necessarily always an uplifting show, it critically exposes the perils of addiction in a way that's quite significant, Sharenow stated.
But not everything at the network hits its mark.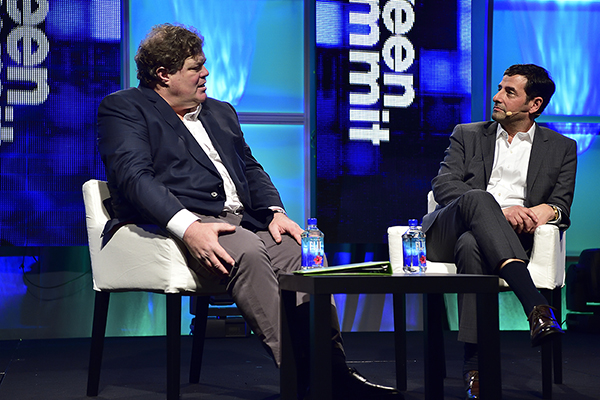 Five days after A&E announced a new docuseries in late December that was set to investigate the Ku Klux Klan, the A+E Networks flagship channel had canceled the project.
Generation KKK (8 x 60 minutes) was slated to pull the curtain back on members of Klan families grappling with the consequences of leaving America's most infamous hate group. The title of the series was later changed to Escaping the KKK amid backlash that fervently argued the series served to normalize the white supremacist organization.
Scheduled to launch Jan. 10, A&E drove the final nail in the program's coffin after allegations surfaced that LA-based producer This Is Just A Test had made financial payments to its subjects, including Klansmen.
In making the decision to cancel the project, the network said that while it stands behind the intent of the series, "these payments are a direct violation of A&E's policies and practices for a documentary." A&E is currently conducting a full independent investigation into the production.
"I firmly and passionately believe in the message of that show, which was to expose hate groups and get people out of the KKK. I still am passionately about those issues and want to speak to those causes. As to what happened, we're still looking into it," Sharenow told a standing-room-only crowd.
One of the things the network is attempting to figure out through its independent internal investigation is how to move forward in "the most responsible way" from a broadcast and production perspective.
"We want to make sure we're on the right side doing the right thing," he added.
However, Sharenow cautioned Tarver when asked whether A&E considers the sociopolitical issues of creating content that may become of greater importance with Donald Trump now sitting in the White House.
"You can never predict how culture is going to respond or what people are going to want," Sharenow said. "I don't necessarily think that Trump will mandate a specific kind of entertainment that will speak to his political point of view and it may be the exact opposite.
"I do think that when producers try to speak to a moment, unless you're a news network, it's hard to thread the needle and sometimes you just get it wrong."
(Photo by Rahoul Ghose)