Joe Livecchi is founder and CEO of the prodco Noble Savages, and a seasoned media professional with over 20 years of experience in content creation, programming and marketing. This is the latest in a series of intimate interviews with what he calls "real life noble savages," or, in his words, "someone who operates with the highest level of integrity and is fierce in the pursuit of excellence." Through these monthly profiles, you'll learn more about these top executives through an unprecedented glimpse into their personal lives — as Livecchi says, "who they are and what made them that way."
This time, Livecchi profiles Robert Sharenow, president of programming at A+E Networks.
For more profiles, keep an eye on realscreen.com and also check the Noble Savages site.
Rob Sharenow is not a guy who likes to make things easy for himself. In his formative years, he had big ideas about how to share his talents with the world. Camp counselor. Cartoonist. Writer. Professor. TV executive. The first four, at least, required lots of training. And so, he trained.
You can't talk about Rob's childhood without talking about summer camp. If you are Jewish and live in the Northeastern U.S., it's practically your birthright to go; however, Rob and his family took it a step further. His dad was a Harvard-trained lawyer who decided that "living the dream" meant leaving the law to buy and operate a summer camp with his wife.
"It was a profound influence on me, having a father who forged a career and life that was of his own making," Sharenow says.
Rob and his siblings attended the camps throughout their adolescence and Rob trained and went on to become a counselor. As a bonus, he actually enjoyed all of it. This provided a broad foundation of learning, adventure and mischief.
"It was like having your parents as a teacher in school," he recalls. "Sometimes it was a little embarrassing when I got in trouble with my friends, but I never really felt like I needed to escape that environment. We are a close-knit family."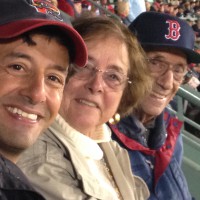 It all sounds like the beginnings of a John Irving novel, except Rob was never one to stick to the script. He allowed the story of his own life to develop the same way his novels would. No outline — just some careful thought and a willingness to dive into the deep end.
As a student at Brandeis University in Waltham, Massachusetts, he had a comic strip in the college paper. He edited and published his own humor magazine. "I was a big fish in a small pond. It was easy to do stuff like this. There was a lot of opportunity," he said.
But the best thing for Rob's future literary career was getting shut out of a creative writing class. "Gloria Naylor, a great novelist (The Women of Brewster Place) and professor at Brandeis suggested I take a literature class when her creative writing class was full. She said, 'If you want to learn how to write you have to read. A lot.' It was life changing."
It's often said that when you are open to new experiences, you allow great things to come your way. Rob says his greatest discovery in college was when he met his future wife, Stacey (pictured, above).
"That was the critical turning point for me," he offers. "She has been my confidant, best friend, true love, the one who has had more influence over me than anyone else.
"You remember in The Godfather when Michael is in Italy and he sees Apollonia and gets hit by the thunderbolt?" he continues. "That's what it was like for me when I met Stacey."
While his love for Stacey was clear, the decision of what to do with his life was still a work in progress. Sharenow wasn't ready to dedicate his life to becoming a writer. And so, he trained.
"I went into academics after college," he says. "I had a post graduate fellowship in American Studies at NYU. I thought I wanted to be a professor but academics was not a very happy life for me. It was very theory based with an emphasis on micro-focusing your view. Had I stayed, I would've spent eight years of my life working on one little piece of history."
To know Rob Sharenow at all is to know how much he loves history — all of it. He's quick to point out that his hometown of Lexington, Massachusetts is the birthplace of the American Revolution. He talks about the founders of our country the way some guys talk about athletes and box scores.
"The Colonial Era had this incredible aggregate of amazing thinkers," he enthuses. "Washington, Jefferson, Adams, Hamilton, Franklin. All living together at the same moment. All that thinking helped birth this country and set the template for democratic societies around the world. And then the generation after them was a lackluster group. You see this trend throughout history. Had we not had the great thinkers of the Colonial Era, the revolution would have never happened."
He is a guy who likes to think very deeply about things, which can be either a gift or potential handicap for someone who can retain and process so much information. And so, it was at the crossroads of his academic pursuits that he thought long and hard about what to do next.
"I remember sitting in our dining room table, talking to my father about graduate school and not loving it and he just looked at me and said, 'What do you really want to do?'" Sharenow recounts. "I told him I wanted to get into TV but I hadn't gone to school for it and had no contacts. He looked at me and said, 'Well, someone's got to do it, why not you?'"
And so, with no formal training, no contacts and frankly no idea how to go about it, he dove head first into the world of writing and television.
In his early years, he sold the first screenplay he ever wrote and also became a writer for shows on History Channel. When he crossed over to becoming an executive he operated by instinct and it paid off.
"I had never been a network exec, I didn't know anybody or anything [about being on that side] and that ignorance proved to be a powerful tool. Growing Up Gotti, Dog the Bounty Hunter and Intervention were among my first three shows. It was a culture that encouraged us to go for the idea that excited us the most. It's a very good mantra for leadership. I still try and channel that to this day."
It wasn't all roses for him, however, and like any good manager there were valuable lessons to learn along the way.
"In the beginning, I had trouble trusting people to do things for me," he admits. "I came from a world as a writer/producer where it was all on you. Becoming a manager, you have to let go, build trusting relationships, and allow opinions different from yours into the system. You have to trust someone else's vision if you are going to grow."
There was another unexpected watershed encounter in the work environment that provided Rob with a valuable ideological compass.
"I had this show I knew would rate and I went into Abbe Raven's [then the A&E Networks CEO] office and made my case for why we should do it. She looked at me and said, 'Is this going to be a great show?' I couldn't say it was going to be a great show, I only knew it would perform. She just looked at me and said, 'Are you sure you still want to do it, then?' It was a weird and powerful moment to come from a CEO who wanted us to believe in our own excellence no matter what.
"I try to carry that forward. It was a stunning moment," he adds.
Also stunning is how Rob zoomed through his thirties by starting a family, rising through the ranks at A&E and pumping out successful novels across different genres in his spare time. He figured out the artist's dilemma of how to scratch your creative itch without allowing money to be a guiding motivator.
"I really think of my writing time like marathon training," he says. "I get up very early in the morning, around 5:30 a.m., and stick to a very disciplined schedule. If it doesn't happen in the morning before work, nothing will get done."
When the conversation turns toward his family, Sharenow talks with amazement and gratitude about his 20-year marriage to Stacey and their two children together.
"I believe in the saying that if you want to get something done give it to a busy person," he maintains. "Ironically my life really snapped into gear when I had my kids. I became more successful on all fronts. Maybe it's because I realized every moment counted. I got to experience the wonders of life all over again through my children's eyes. I remember the first time they heard a thunderstorm and when I dropped my daughter off at college, I felt her nervous excitement of being in a college dorm and not knowing anyone.
"My kids are endlessly fascinating to me," he adds. "They are surprising, funny and challenging and for me, being a dad is everything it's cracked up to be and you are discovering life all over again."
There is also a lot Rob is proud of as he reflects on his nearly two decades at A+E Networks and the landscape he oversees as president of programming. He makes a point to tell me how his teams have ushered in a new wave of sustaining hits on A&E, History and Lifetime with a stubborn and uncompromising standard of excellence.
When I press him for regrets he laments how History was beaten to the punch on the definitive doc series on the Vietnam War [Ken Burns and Lynn Novick's series for PBS] and how Lifetime probably tried to achieve too much at once before sharpening a strategy that is seeing gains with their movies, relationship shows and re-focused docuseries franchises.
"Our new leader, Paul Buccieri, has provided amazing clarity and focus for our creative teams," Sharenow says. "He comes from the creative side, so he understands and respects the process and has been pushing us to grow our core areas of strength."
As I'm getting the not-so-subtle wrap up signal from his assistant, he offers one last revelation. Rob Sharenow wants you to know he's not an obstructionist. "Some people may think I have a high bar or I'm tough on creatives. I just want us to be inspired and excited about the work."
It's a fitting coda from a guy with a reverence for the written word, originality and the best in class providers and buyers in the television industry. Rob never forgets that the foundation for his life-long success started so simply and beautifully across the rolling green hills he explored as a camp counselor. Today, the mountains he climbs from his corner office offer no reliable map but occasionally, can be just as breathless. And so, he trains.