Some 800 kilometers north of Winnipeg on the shores of Playgreen Lake, storied filmmaker Alanis Obomsawin has focused her lens upon the vibrant Kinosao Sipi First Nation reserve in Norway House, Manitoba.
The reserve is home to the family of Jordan River Anderson (pictured above with his mother, Virginia Anderson), a First Nations child who was born with multiple disabilities requiring specialized care.
Jordan lived the entirety of his life at a Winnipeg hospital while provincial and federal governments clashed over which would shoulder the costs to relocate him to adapted housing near Norway House Cree Nation.
He died in hospital in 2005, far from home, before a decision was reached. In 2007, the House of Commons unanimously adopted Jordan's Principle, promising no First Nations child would go without access to government-funded services.
In Obomsawin's 53rd film, Jordan River Anderson, The Messenger, the acclaimed Abenaki director (pictured below) follows the more than decade long legal battle for Indigenous parents to access funding under Jordan's Principle.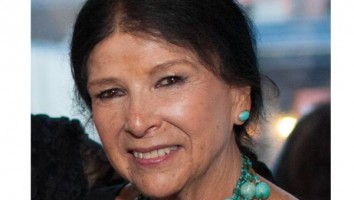 The documentary has its world premiere today (Sept. 10) at the 44th annual Toronto International Film Festival. Furthering Obomsawin's 50-year legacy as a filmmaker-activist, Jordan River Anderson, The Messenger is one of 11 documentaries to comprise TIFF's 2019 Masters program.
"I'm very honored that TIFF is premiering it… You reach a very important audience," she tells Realscreen. "Everybody should watch this film. Not only for what happens to the children but what's happening also at the government level."
Canada's public film and digital media producer, the National Film Board of Canada (NFB), is the producer and distributor for all of Obomsawin's films, including Jordan River Anderson, The Messenger.
Executive produced by Annette Clarke of the NFB, the 65-minute documentary completes the director's film cycle devoted to the rights of Indigenous children and peoples that began with Obomsawin's 2012 film The People of the Kattawapiskak River, executive produced by Ravida Din.
"I've been working on the film in and out since 2011," she says. "Meanwhile, I made five other films, but I was always coming back to Jordan, to follow what was happening."
In 2016, Obomsawin's We Can't Make the Same Mistake Twice, which documents the landmark discrimination case filed against the federal government in 2007 for failing to apply Jordan's Principle, had its world premiere at TIFF. Clarke was once again executive producer on the documentary.
"It's been quite a war for all these years," she says. "This past year, it's been very active. A lot of things have changed, so I finished the film and I'm very, very happy with it."
In Jordan River Anderson, The Messenger, Obomsawin captures the long, "discouraging" wait for Ottawa to dole out the funds it set aside for Indigenous children.
Shot in Indigenous communities, courtrooms, centers of political power and at public demonstrations, the film compiles interviews with politicians, lawyers and academics, along with Jordan's family and caretakers, conducted throughout the more than five-year long process.
Weaving video footage and photographs of Jordan's time in hospital, the film also traces the parallels between Jordan and Noah Buffalo Jackson, an Indigenous child from the Montana First Nation in Maskwacis, Alberta who suffers from cerebral palsy.
Long-time advocate Cindy Blackstock, director general of the First Nations Child and Family Caring Society – who launched the complaint with the Canadian Human Rights Tribunal in 2007 – is featured prominently in the film testifying as a witness in court against the federal government. "It wasn't easy to get permission in court to start filming there," Obomsawin says. "It's quite historical for me to have been allowed to document everything in court."
Following TIFF, Jordan River Anderson, The Messenger will screen at the FIN Atlantic International Festival in Halifax and the Calgary International Film Festival.
"We are at such a different time now, us Indigenous people. There's respect towards us that I've never seen before, and that's across the country," she says. "I have a feeling Canadians really want to hear and want to know what the true story is, and are interested in seeing justice… I'm so thankful I've lived this long to see the difference."
Jordan River Anderson, The Messenger has its world premiere tonight (Sept. 10) at the Art Gallery of Ontario's Jackman Hall at 6 p.m. ET.