Rob Bagshaw, EVP of unscripted at Nickelodeon, likes to accomplish the impossible. He's done it over and over again in his career but my first thoughts upon meeting him are how he is the most extroverted private person I have ever met. You sit with Rob (pictured above with Alyssa Milano) and his energy is electric; his manners, textbook old school British; and for decades, his personal life was strictly off limits to everyone. Over an hour of conversation with him, all that changed —so much so that this interview needs to be shared in a different way.
This is Rob Bagshaw in his own words.
I grew up in the district of Kent just outside London, England. From four years old, I was obsessed with the performing arts. I loved dancing, singing and anything and everything that involved creative expression. I wasn't interested in anything else. I would watch the news and feel the newscaster talking directly to me. For my 10th birthday my mom took me down to the local television station where they let me read the news in front of the cameras. For my 11th birthday we went backstage at a huge London musical in the West End. It was all I cared about.
My younger brother was a jock and my dad a firefighter. They tolerated my wild ambitions and amateur performances. As I got older it was clear that to really gain access to this world, I had to do it on my own. I was one of those kids who was always writing letters to celebrities, producers and the heads of networks. I wrote hundreds of letters and got hundreds of rejections. I never gave up. Sometimes they wrote back and all I wanted to know was, "How did you get your job?" I got invited down to shadow stage managers at London's biggest shows: Phantom of the Opera, Les Misérables, Miss Saigon, Cats.
As a teenager, I would dress up and ride the train to London with my friends to see The Rocky Horror Picture Show at much too young of an age. The closest person in the world to me was my grandmother. I would ride the bus 45 minutes or cycle to her house just to be with her. When she passed, it was the most outwardly emotional I had ever been in public in my entire life.
My parents divorced when I was 18. My dad moved to Spain and remarried and my mother stayed in England. It was a tumultuous time. As I was coming of age and starting my career, I wasn't comfortable being open with my parents about who I am. I wasn't comfortable being open with anyone.
At university, I trained in Media and Performance, working for cable news at the same time, and at graduation I got two job offers — dancing on a cruise ship for a lot of money or being a production assistant on a UK sitcom for very little money. I took the sitcom. From there I was a PA on game shows, panel shows and talk shows. I loved it all. As my career continued, I moved up the ladder in every position.
Some friends of mine had an idea for a show which I piloted in Morocco and pitched in the U.S. I didn't know a soul in America. It wound up getting commissioned and suddenly I was in Hollywood, setting up the production. I found a location and was the only Englishman on the set. I came for three weeks and ended up staying six months.
That show was Paradise Hotel. I thought I would never see these people again in my life. It turned out being easier to open up to strangers than opening up to my own family. My whole life, I always thought how selfish it would be for me to go on about my life to someone. I didn't want to be that person who was always talking about themselves. For a long time, I was also embarrassed of who I was.
Sometime after that I met the mother of Matthew Shepard. (Matthew was a student who was beaten, tortured and left to die for no other reason than being gay.) I asked her if Matthew ever came out to her before he died. She said he did, and she told me I should talk to my mom and then call her afterward to let her know how it went. I was so taken by this stranger who seemed to care so much about me. I thought, what if something happened to me or my mom and she never knew who I really was.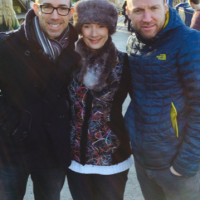 Instead of planning a 'big reveal', I just woke up one Sunday, called my mom and said, "I'm gay." She said she thought this might be the case but wasn't sure. I said, "Mom, why didn't you ever just ask?" She said it wasn't her place. It was mine to talk about when I was ready. She was very supportive, as she is about everything my brother and I do. I started to realize I could be more honest about who I am. That's not me being selfish, it's me being truthful.
For a long time, I didn't tell my father I was gay. We didn't really have a close relationship when I was growing up. He was a macho guy who believed you don't really talk about your feelings. I thought I would tell him if a good reason ever came up. My brother was getting married and I didn't want any secrets with my dad overshadowing my brother's big day. So, I called my father and told him I was bringing a date to the wedding, "and his name is …" He said, "OK, cool." My dad and my date wound up getting along well at the wedding. My father confessed he wasn't so vocal supporting me when I was growing up because he was worried I was going into an impossible field.
I fully support gay and equal rights to marry but I never thought marriage was for me. I would think back to watching the pain of my parent's separation and it was too much. I was also still struggling with being honest about my sexuality. I thought, why is it relevant to bring up personal issues in a professional environment? I just wanted to be known as a great producer.
For several years, I worked back and forth between the UK and the U.S. I was doing morning shows, late night talk shows, awards shows, all live. It gave me the muscle to understand the technical side of a broadcast, what was possible and how it was done. After Paradise Hotel, I was being asked to do a lot of competition elimination shows. I was saying yes to everything, always overlapping and rarely doing more than two seasons of the same show. I always wanted to do something new and do the hardest part, where you are figuring out a show from scratch.
I was the archetypical freelance producer. I wanted new, new, new. More, more, more. I wound up moving to Australia to run entertainment at a network. It was a different experience. In Australia, television doesn't have the same power as it does here; people want to be outside enjoying their beautiful country. From Australia, I moved permanently to LA. I ran Top Chef Masters and after that was asked to figure out a spin-off for Project Runway.
They wanted a spin-off but didn't know what they wanted other than it had to be different from Project Runway but still represent the brand. It wound up becoming Project Runway All Stars which I did for all seven seasons. That was my baby. For some reason I would have endless ideas for challenges for that show. I could come up with a hundred. After we figured out the right tone for the show, it became very clear to me what was a Project Runway challenge and what was an All Stars challenge. They were two very different things.
I went to BBC Worldwide where I was overseeing several showrunners. Through my career I have done a lot of reality competitions — good ones, bad ones, reinventions, new formats. I learned as a showrunner that you have to not disrespect anyone's experience but still make a show work. You have to serve the needs of the network, the production company and the show, which are rarely ever the same thing. When I worked with Oprah, the Jim Henson family or other industry leaders, I knew they had very specific expectations. I would always be respectful but not be a yes man. As a showrunner you are doing everyone a disservice if you don't speak up on behalf of the project.
I met Jonathan Murray who really taught me about storytelling, whatever the format. He said it's not really about who's winning and losing, it's about relationships and the arcs your characters are going through.
I ended up opening the New York office of Bunim/Murray. I was still showrunning, pitching and developing, and doing All Stars which was a year-round job. I was doing two full-time jobs at once. I sold and ran shows but came back to LA to do a stint on RuPaul's Drag Race, which is still one of the best reality competition shows ever.
I have been lucky in recent years to be able to pick what I wanted to do next. From time to time I would get calls from networks but the jobs never really appealed to me. One day I got a call that Brian Robbins at Nickelodeon wanted to meet me. I had never done kids programming before but I was confident I knew how to make great TV. I went into the meeting with an open mind and came out determined to get the job.
I was enthralled by Brian and his vision for the network. He talked about how kids are consuming content on so many different platforms and watching more unscripted. He laid out his vision and said our audience deserves to have that programming put through a Nick lens — shows clearly made just for them. Brian, of course, comes from producing and directing. He was talking about creating great content for a changing market, from specials to live, from formats to docuseries. I was impressed by his passion, and we talked candidly, producer to producer. It was a serious conversation about changing a network and building a whole new division.
The opportunity he was describing was really exciting. He asked me, "Why do you want this job?" I told him, "What you just described is a dream. You are asking a freelance producer; do you want the chance to make multiple TV shows?" I turned down two other opportunities not knowing if I was going to get this. Brian and I had one more conversation after that and he asked, "How would you like to start this new division at Nickelodeon?" He said he was bringing creative producers into leadership roles and I would have great support from Viacom. Brian gave me this tremendous opportunity. It was a no brainer.
As an executive, I have been conscious about not giving notes reflecting what I would do as a producer. I go back and look at my notes and I check myself. If the note is not going to move the needle forward or doesn't serve network needs, then I don't give the note. That doesn't mean you can forget the detail. The value I can give now is the research strategy of where the network is going and help pivot a project to fall in line with that strategy.
When we get to production, I manage things in a way that I hope helps producers while maintaining my agenda for the network. The show must originate from the showrunner or prodco's vision. My job is to make sure the audience receives it well. Those are different jobs.
The work is bigger than I thought. It's harder than I thought. This is the most excited I have been about TV and our industry in years. I am learning a lot as we go. Our audience is growing up a lot quicker today. With so much content on linear, digital and social, kids are their own programmers, and as a brand people trust we can be a destination they come to for their entertainment in so many different ways.
We like to think "funny first," even in our music, awards and competition shows. Big stars love to have fun at Nickelodeon and we are doing more episodes of our hidden camera comedy The Substitute where celebrities go undercover with prosthetics as substitutes in kids' everyday lives. We recently rebooted and reformatted Are You Smarter Than a 5th Grader?, placing the kids at the heart of the action. We're doing the American version of the hit UK format The Crystal Maze with families as contestants, and right now we are filming an original competition series called America's Most Musical Family. These are great examples of co-viewing shows that can widen our demo and have a positive impact on families.
(Rob has shared so much at this point, but I ask him, "What is one thing you want to make sure people know about you?")
To bring it back full circle, I want people to know that doing a good job and creating a good project is not the only thing in my life now. I am in a very happy relationship. Being a well-rounded individual and caring about others is now jumping ahead of just being a good producer.
With that Rob walks me out but not before stopping on the stage to watch a rehearsal of "America's Most Musical Family". He is literally bouncing up and down with the excitement of a four-year-old boy — the same four-year-old who, years ago in Kent, England, started on an impossible journey. As I walk away Rob turns his attention back to the stage, relishing the moment and living out a destiny he was so determined to create for himself.
Joe Livecchi is founder and CEO of the prodco Noble Savages. Through these monthly profiles, you'll learn more about top executives through an unprecedented glimpse into their personal lives — as Livecchi says, "who they are and what made them that way." For more profiles, keep an eye on realscreen.com and also check the Noble Savages site.