Realscreen presents the first of three reports on the International Documentary Film Festival Amsterdam (IDFA) Forum, which this year sees 44 projects pitched at the co-production and co-financing market.
A select few documentary filmmakers took a seat at the Compagnietheater in Amsterdam on Monday (Nov. 25) to pitch their projects to a hand-picked group of decision makers as part of IDFA's 32nd edition.
The below offers an overview of some of the projects pitched during round table blocks one and two, with feedback from commissioning editors and decision makers. See parts two and three of the report.
The Golden Thread
Director: Nishtha Jain
Producer: Nishtha Jain, Irena Taskovski, Morana Komljenović
Production budget: €177,814; Partial funding secured from IDFA Bertha Fund, Docs Port Incheon, Asian Cinema Fund, Alter Cine Grant
Still required: €87,350
Status: Post-production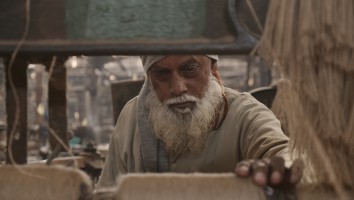 IDFA Logline: Outside Kolkata, jute mills crank on, virtually unchanged since the industrial revolution. How does the work powered by steam and sweat, its sensory experience thereof, dance with the labor of filmmaking?
The Golden Thread is an "immersion into the sense-scape" of West Bengal's 150 year old jute industry. At the outskirts of Kolkata, the banks of the river Hooghly are lined with huge jute factories in various states of operation and decay. Now, the nearly forgotten industry is attracting renewed interest due to the golden fibre's eco-friendly qualities.
A second camera will shoot the crew, and the workers will film the crew on their mobile devices, intended to call attention to the "act of viewing" and not permit the audience to be "passive viewers."
Arte G.E.I.E's Sabine Lang started the discussion, calling the project "highly poetic" and "cinematographic."
"What was not in the trailer yet is how will this work with the second camera, and how will you make this process and have a new innovative style of storytelling?" she said. Ken-ichi Imamura of NHK Enterprises echoed the statement.
"Since the film is a meditation on labor itself, I think filmmaking is also creative labor and I want to look at that interaction," Nishtha Jain, the film's director, explained. "And I think even a little hint at it will go a long way."
The Whickers' Jane Mote praised the pitch but questioned the balance between "the scale and the character development in the film." Mote also asked whether there was a conflict between the sustainability of jute and the working conditions in the factories.
"These are the same questions we are dealing with as we begin to start post-production," Jain said. "Not everything needs to be discarded, this whole infrastructure could be used for more humane factories."
Cristine Platt Dewey of Ro'co Films added: "Beautiful pitch. There's a musicality to the factory that's really relevant."
Dewey said, however, she was curious about the political side of the story.
Young Plato
Director: Declan McGrath, Neasa Ní Chianáin
Producer: Declan McGrath, David Rane
Production budget: € 496,172; Partial funding secured from Screen Ireland, Northern Ireland Screen
Still required: €89,834
Status: Development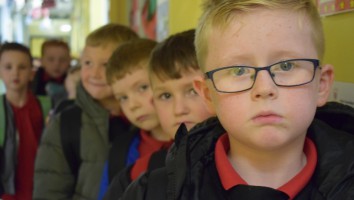 IDFA Logline: One visionary headmaster from Belfast's Ardoyne housing estate takes on poverty, drugs and the IRA using wisdom of ancient Greek philosophers, igniting hope in the heart of a battered community.
Belfast's Ardoyne was one the main centers of the Northern Ireland conflict from 1969 until the 1998 ceasefire. The Holy Cross Boys Primary School is an area of "severe social deprivation," located in the Belfast stronghold of the dissident IRA, who are violently against the decades-long ceasefire. Young Plato follows charismatic headmaster Kevin McArevey as he continues his mission to change the narrative of generations by turning the Holy Cross Boys into a philosophy school.
The project has been commissioned for BBC Northern Ireland by Justin Binding.
"I know about this project, I think it's really special," the BBC's Mandy Chang said, adding she was interested to learn more about the unfolding narrative.
Jamel Dallali of Al Jazeera Documentary Channel said the issues presented in the film resonate on a global scale, and that he was impressed by the angle of philosophy as a method to resolve conflict.
"There's a lot of humor, there's even more conflict, which makes it very, very interesting," ARTE G.E.I.E's Claudia Bucher added. "For an international audience, how will you transfer the context?"
Director Declan McGrath said they will use radio footage and archive news footage to provide better context, in addition to shooting within the community.
VPRO's Natalie Windhorst and BFI Doc Society's Lisa Marie Russo both expressed interested in the family dynamics for the Holy Cross Boys. "The few things I'd really love to know more about are the children and their parents, and that conflict and drama, how that will come out through the film with what people are really facing," Russo said.
Eternal Me
Director: Hans Block, Moritz Riesewieck
Producer: Christian Beetz
Production budget: €670,000
Still required: €670,000
Status: Development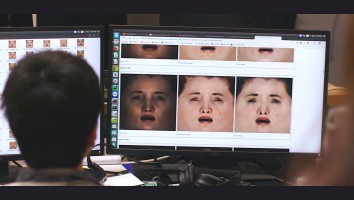 IDFA Logline: Eternal Me tells the story of people who live on as digital replicants in the pockets of their loved ones. With the help of artificial intelligence and Big Data, a dream comes true that is as old as mankind itself: eternal life. It's probably the biggest business idea of the digital age.
Eternal Me explores start-ups using a wealth of data to develop "digital doppelgangers," which promise to immortalize people on earth. The film raises a number of questions, such as: Can a digital entity compensate for the loss of a loved one? How will human memory be affected? And do we not have the right to forget?
Christiane Hinz of ARD/WDR said the filmmakers were raising important questions. "I'm happy to offer you now development money, because I think some of the characters you can also research a bit more, and it will be great. I offer you a good amount so you can step into production quickly."
VPRO's Barbara Truyen said she likes working with the team but had one "big question."
"It seems to be there's no women on Planet Eternal," she said. "What are you going to do with the other part of the world?"
Filmmaker Hans Block said it was discussed, but the majority of clients using the technology were men. "Maybe we have to find out more [about] why and include that aspect in our film."
Chang asked how much of the film will question whether the technology should be used. Co-director Moritz Riesewieck replied: "Yes, of course, we will do that for sure. But first, before criticizing it, for us it's very important to really understand what drives these clients."
Nearing the end of the discussion, YLE's Erikko Lyytinen offered a critique, suggesting the filmmakers incorporate an unpredictable element.
The Daughter of Genghiz
Director: Christian Als, Kristoffer Juel
Producer:  Andreas Møl Dalsgaard
Production budget: €702,677; Partial funding secured from Danish Film Institute
Still required: €413,465
Status: Start production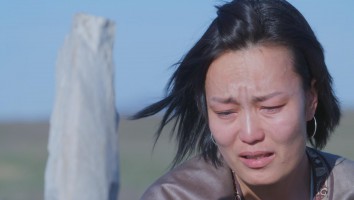 IDFA Logline: Gerel fights to restore the spirit of Genghis Khan. She is an ultra nationalist, a shaman, gang leader and single mom. She wants to stop corruption, pollution and exploitation.
The Daughter of Genghiz follows nationalist Gerel Byamba, the head of the NGO Gerel Khas, a feminist group that believes women should be at the forefront of male-dominated Mongolia. The film explores Byamba's complexity as a violent gang leader, artist, nationalist, shaman and mother, as she seeks to "reclaim the spiritual power of Mongolia.
The project has been commissioned for DR by Anders Bruus.
SVT's Axel Arno kicked off the discussion. "I think it's important to understand the forces that she's up against," he said. "I'm going to be curious in our one-on-one to talk about the political powers and [how much] all the forces she's up against will be visible in the film."
The themes explored in the film are universal, Dallali added. "When you think about nationalism, you think about Europe, the consequences of immigration. But here we have a country that is not a destination for immigrants but still populism and nationalism are there," he said.
Jenny Raskin of Impact Partners said she hoped to learn more about Byamba's antagonists, and what level of collaboration she has in the making of the film.
The First 53 Years
Director: Avi Mograbi
Producer:  Annie Ohayon Dekel, Camille Laemlé
Production budget: €523,224
Still required: €493,224
Status: Start production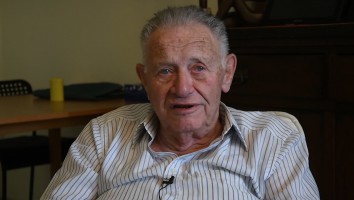 IDFA Logline: Israeli soldiers report on the mechanisms of oppression of Palestinians in the occupied West Bank and Gaza strip from 1967 to the present day. The factory of the occupation machine.
The First 53 Years tells the story of the methods, mechanisms and daily actions that have embodied the Israeli occupation of the West Bank and Gaza Strip for the last 52 years through testimonies of soldiers.
ARTE France in the process of greenlighting the the film.
Chris White of PBS strand 'POV'/American Documentary opened the round table discussion. "I'm interested in learning more about the testimonies and sort of the breadth of questions that were asked," he said. "You're presenting it as sort of a dispassionate account of what happens on a daily basis so I'm wondering if we learn more about the evolution of the people that step forward to testify?"
White added the film bears a resemblance to the 2011 film The Law In These Parts. Director Avi Mograbi said the films are "siblings." While The Law In These Parts explores the legal structure, The First 53 Years illustrates the operational structure.
"We will not learn about their past, we will not learn about how they grew up to decide to become whistle-blowers," Mograbi noted. "But I think that you will not be able to ignore what's reflected from their eyes."
SVT's Arno furthered the discussion, adding he would like to hear more from the commanding operators side as opposed to the low ranks, and to see some reflection from the soldiers on how the war affected them. "Also, are you including at all, any voices of the occupied? Probably not. That's an editorial choice but I respect that."
Untitled Amanda Mustard Film
Director: Amanda Mustard, Rachel Beth Anderson
Producer: Amanda Mustard, Rachel Dretzin
Production budget: €714,000
Still required: €581,400
Status: In production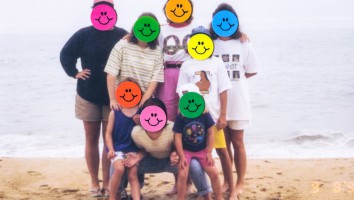 IDFA Logline: Photojournalist Amanda Mustard turns her investigative lens on the sexual abuse committed by her grandfather, unearthing a high-stakes personal journey in pursuit of the truth and reconciliation for Amanda's family.
Amanda Mustard grew up in the aftermath of decades of rampant sexual abuse at the hand of her grandfather but her family never discussed the root cause of the dysfunction. Using an archive of materials alongside her own photography, Mustard seeks to gain a better understanding of how her family has been shaped by the stories that have gone untold.
Courtney Sexton of CNN Films told the team the pitch was "very strong."
"These are the stories that we need to continue to tell, and we need to tell them in the best way possible," she said. "A lot of what drew me to this pitch is the creative elements… I think those elements beyond the story are what would draw our audience, and I suspect [audiences] anywhere, to this."
Impact Partners' Raskin said she was curious what kind of resolution the filmmakers were after.
"We just got done with a very extensive shoot," co-director Rachel Beth Anderson said. "[Mustard's] grandfather actually passed away about four months ago. And, this has allowed us to access new records, we've been able to go through and find names… I see an opportunity to really understand the truth and why this was allowed to happen."
Paradise
Director: Karl Malakunas
Producer: Marty Syjuco, Michael Collins
Production budget: €758,000; Partial funding secured from Sundance Institute, Bertha Foundation
Still required: €518,000
Status: In production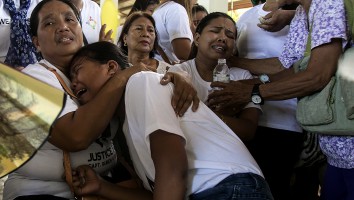 IDFA Logline: A charismatic lawyer leads good men to their deaths, an ex-illegal logger seeks redemption, a grandmother politician defies assassination threats… Three environmental crusaders battle to save an island paradise in the Philippines.
Paradise follows Bobby, Tata and Nieves, the three leaders of a network of environmental crusaders and vigilantes trying to protect the Philippines' natural resources from "ruthless politicians and businessmen."
"I'm interested in this because it's got hope," the BBC's Chang said at the start of the discussion. "Not one of our environmental stories should be dark because otherwise people will have no hope."
Director Karl Malakunas assured Chang the film offers hope: "Their spirit and hope and resilience and determination to keep fighting is very much at the core of the film."
Sabine Bubeck-Paaz of ZDF/ARTE added: "I think it will translate to all of us here in Europe or far away because we all know how important these forests are." However, she questioned whether the filmmakers plan to "widen the horizon of understanding of what's at stake."
"We're very enthusiastic about this project," PBS's White chimed in. "I have confidence in this team that all of [the context] will be there and this is a team that spends enough time with their projects and it's a deep and full human experience."
Museum of the Revolution
Director: Srđan Keča
Producer: Vanja Jambrović, Srđan Keča
Production budget: €226,100; Partial funding secured from Film Center Serbia, Creative Europe, Czech Film Fund
Still required: €105,900
Status: In production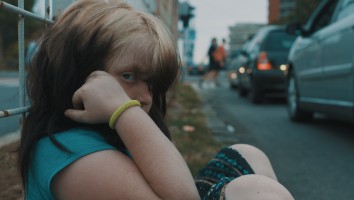 IDFA Logline: Living inside the remnants of an abandoned utopian project, a little girl and an old lady grow an unlikely and wondrous friendship. As the city erases the spaces they inhabit, their separation looms.
The Museum of the Revolution of the People of Yugoslavia was meant to be an architectural centerpiece of Belgrade. Today, however, it remains a secluded home to "people forgotten by society," including a little girl named Milica, who forms an unlikely friendship with a nearly deaf, elderly woman, Mara. One spring, Milica's mother Vera returns. Soon after, the Museum's inhabitants are kicked out. As Vera pulls Milica into the world of "street hustling and drugs," she and Mara drift apart.
PBS's White noted that the footage was "heartbreakingly beautiful," adding: "I have questions about the parallels between the history and the museum and the family itself. Are there direct ties that are spoken to by the grandmother that sort of expands that or is it a symbolism that you're imposing on the film and drawing those parallels?"
Filmmaker Srđan Keča replied: "In one sense, there's no need for symbolism because literally the spaces they inhabit are being transformed…. On the margins, you feel there is a different world that they don't really belong to. So that is something we're using in the way that we edit and the way we arrange the film."
Arno Becker of RTL Television added:  "I think your project has all the right ingredients to become a famous film and even an award winner."
He said the story unfolds in a characteristic setting, though the themes are universal. "I think it's a very clever approach to explore the society and the city and the change of the city by those three characters, and I think it will work quite well."