In partnership with Realscreen, industry veterans T Ferguson and Patrick Jager are presenting the premiere episode of video series The Distillery.
The first episode of the series, "COVID and Us", features special guests, Shab Azma (Flutie Entertainment), Chris Vivion (Spacestation) and Josh Sugarman (Vampire.Pizza). With Jager and Ferguson, they deep dive into what's happening inside the world of talent management, content production and immersive entertainment; and how COVID-19 is shaping our collective outlook and new opportunities.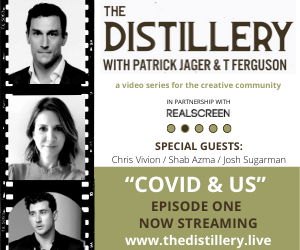 Azma is a partner at Flutie Entertainment, a boutique talent and brand strategy company representing nationally recognized television lifestyle experts in areas such as food, design, health, fitness and fashion. Flutie also produces formats for television.
Vivion is a executive producer and partner at Brooklyn-based Spacestation, a "full-stack" production company that is writing, producing, directing, editing, and delivering content to clients such as HBO, Food Network, and Bravo, and to agencies and digital outlets.
Sugarman is the developer of Vampire.Pizza, a story/game/dinner experience delivered to families/players at home. Launched in March 2020 (during the beginning of COVID-19), VDP is a one-of-a-kind immersive experience produced by Ravel, where Sugarman is chief experience officer.
To see the first episode of The Distillery , click here.