The finale for Season 1 of Patrick Jager and T Ferguson's series, The Distillery, is now available for viewing.
In this episode, the hosts are joined by Scout Productions' David Collins (Queer Eye), licensing expert Kelly Hill, and marketing and advertising veteran Jordan Hyman to discuss what might make parts of the creative industries recession-proof, the importance of smart, creative problem-solving and how to focus on growth during uncertain times.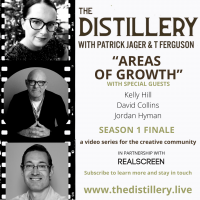 ABOUT THE PANELISTS
David Collins is the creator and EP of unscripted series and cultural phenomenon Queer Eye. He is also the founder of Scout Productions — an award-winning production company working to bring together talented people from all areas of production to create top-tier television programs.
Kelly Hill is a veteran business development and licensing executive who has worked across film, TV, sports, celebrity and entertainment brands. She has developed worldwide consumer product programs and award-winning live events and is currently focused on the interactive and gaming space.
Jordan Hyman is a 22-year veteran of the advertising and marketing industries and was recently named SVP, head of sales and marketing for Magnet Media, a creative studio that fuses storytelling and data to craft stories that matter for brands.
To see the latest episode of The Distillery, visit the official site here.