The 2020 digital edition of the International Documentary Film Festival Amsterdam (IDFA) Forum continued Tuesday (Nov. 17) with five projects presented to an expert panel, with feedback from commissioning editors and decision makers.
Pitched projects include Talal Derki's Song of Summer and Winter, about seven actors attempting to put on a performance in war-torn Syria; Andrei Ujica's music-focused documentary Things We Said Today, which offers a glimpse at New York City in the 1960s at the height of The Beatles' popularity; and Ana Veselic and Jessica Chermayeff's coming-of-age vérité film Anchor Baby, which follows a young mother as she fights to assimilate in America.
Part one of this report can be found here. Stay tuned for part three on Monday, Nov. 23.
SONG OF SUMMER AND WINTER

Director: Talal Derki
Producer: Sigrid Dyekjaer, Heba Khaled, Beth Earl
Production companies: Siggi Production, Jouzour Film Production UG
Country: Denmark, Germany, United States
Production status: Starting production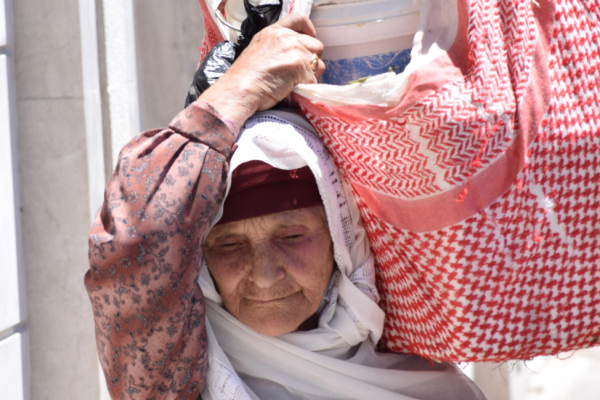 IDFA Logline: In Syria, the poverty and hunger have taken over. In the meantime, a group of seven young actresses are trying to save what is left of their dignity, by standing against blackmail and refusing to be sexually exploited in a corrupted media scene where man has the upper hand.
Director Talal Derki alongside producers Sigrid Dyekjaer and Beth Earl presented Song of Summer and Winter to the virtual IDFA Forum panel. The film is currently beginning production with Impact Partners, Catapult Film Fund and International Media Support on board as financiers.
The filmmaking team has hired a second unnamed director in Syria who hasn't left the capital of Damascus since the war began. The team has also hired a local female cinematographer to ensure that the dramatic and intimate stories of these seven women are captured.
The filmmakers are seeking funding partners, possible film funds, coproduction possibilities and pre-buys.
Simon Kilmurry of the International Documentary Association – who recently announced his decision to depart the organization – stated that he was pleased to see the team brought on a female cinematographer and encouraged Derki to seek out funding via IDA's Enterprise Documentary Fund.
SVT's Axel Arnö kicked off his allotted time by stating that he really enjoyed the "female perspective" at the center of this film, but warned that the narrative might become muddled with seven characters. Regardless, Arnö revealed the Swedish broadcaster was interested in possibly boarding the project. "We've boarded your past two films, Talal, so it's very possible we'll join this one too."
The BBC's Rosie Garthwaite, meanwhile, said that the British pubcaster was "really impressed" with the direction of the film and would be interested in acquiring the film's Arabic rights. "It reminded me a lot of scenes from Nadine Labaki's films, like Caramel. I also thought the humanity between the women was excellent and why I got into filmmaking in the region in the first place where I wanted to reflect lives like these. It really spoke to me."
ÁNGEL: DIARY OF A PLANNED DEATH

Director: Fernando González
Producers: Laura Collado Bossi, Enric Bach
Production company: Producciones del Barrio
Country: Spain
Production status: Development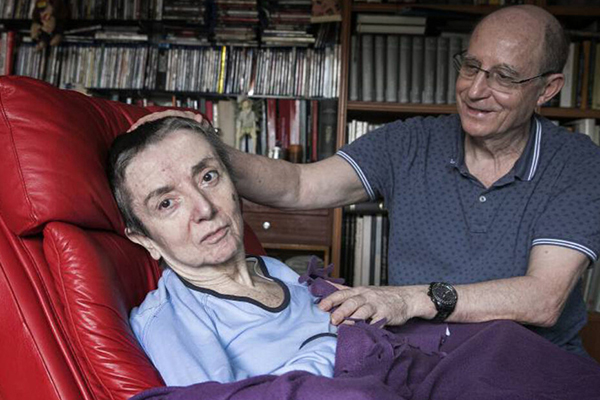 IDFA Logline: Ángel waited years for a euthanasia law to be passed to help his wife have a dignified death. But he had to sacrifice himself to push the change. 
Currently in development, Ángel: Diary of a Planned Death (main image) shines a spotlight on the debate around euthanasia in Spain and Europe. Through archive materials from Ángel Hernández's heart-wrenching video diaries, the film will illuminate and document the conversations, doubts and decision to provide his wife María José Carrasco, who had been suffering from terminal illness, with a dignified death in April 2019. The film will also follow Hernández in the present day as he awaits trial for homicide – legal consequences for taking part in his wife's passing.
"For us, this is an urgent film," said producer Laura Collado Bossi. "We really need to shoot it in the next few months as Ángel faces trial and the law is debated. We're here to ask you to join us to turn this film into a reality."
The filmmakers are seeking any new production partners and currently have the support of Catalan pubcaster Televisió de Catalunya.
ARTE France's Mark Edwards acknowledged that assisted suicide is a hotly contested topic in France and wondered how the filmmakers planned on interweaving María José's personal story with Spain's laws on euthanasia. "How far does that discussion go with the policymakers themselves, that is what would push us over the edge."
Similarly, ORF's head of documentary Sharon Nuni held some reservations about the Austrian pubcaster boarding the project due to the fact that Austria is a "relatively Catholic and conservative country." She hoped instead that the filmmakers would focus on the relationship and personal story between Ángel and María José: "We don't have stories like this in Austria. The policy issue, we'll have to see how we can manage with our audience."
Justine Nagan, outgoing executive director of American Documentary and executive producer of 'POV', shared similar concerns but noted that the project could indeed find a home stateside at 'POV' due to the fact that it is a character-driven documentary. "Looking at your timeline, it would be in possible consideration for broadcast 2022," she said.
THINGS WE SAID TODAY

Director: Andrei Ujica
Producer: Anamaria Antoci, Andrei Ujica, Ronald Chammah
Production companies: Tangaj Production, Modern Electric Pictures, Les Films du Camélia
Country: Romania, France
Production status: Starting production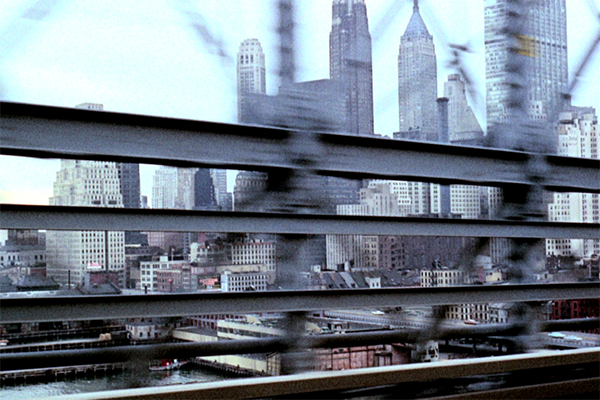 IDFA Logline: A time capsule of New York between August 13-15, 1965, framed by The Beatles' arrival in the city and their first concert at Shea Stadium, narrated from the perspectives of two teenagers.
Things We Said Today, the latest feature-length documentary from Romanian director Andrei Ujica, will look to portray a generation strongly influenced by The Beatles phenomenon and the cultural impact one of the most seminal bands in music history had on an individual's identity.
"My intention was and is not to make a film about The Beatles, but about us; about the influence that they had on our generation which completely changed the social structure," said Ujica.
The idea, he adds, was to reconstruct the weekend of August 15, 1965, when The Beatles performed their biggest ever concert in New York, exclusively from original footage and "to show that this big event was embedded in the history of time." In addition to the historical archive materials, the film will introduce various characters through reconstructions.
ARTE France Cinema has boarded the film.
From a production standpoint, the filmmaking team has finished gathering and editing the archive materials, and are currently in process of clearing the rights. A script has also been completed alongside a guided voiceover and animated graphics.
Of the estimated €1.1 million budget, the filmmakers currently have €500,000 in place. The film is expected to be delivered by 2022 and the team is currently seeking financiers, broadcasters, and both coproduction and distribution partners.
Cinereach's Leah Giblin voiced her attraction to the "underlying value and worth of the archival materials," and wondered aloud what could be mined from the wider appeal and cultural significance of The Beatles. But Giblin also had concerns as to how Ujica planned on demonstrating the comparison and contrast "in what happens in the wake of this moment with The Beatles."
Similarly, YLE commissioning editor Jenny Westergård had "a lot of questions" about the style and form, how the 90-minute version will play out and what the viewers will actually experience in the final edit.
Both had scheduled one-on-one meetings with Ujica and his team.
KARUARA: PEOPLE OF THE RIVER

Directors: Miguel Araoz Cartagena, Stephanie Boyd
Producer: Stephanie Boyd
Production companies: Asociación Quisca
Country: Peru
Production status: In production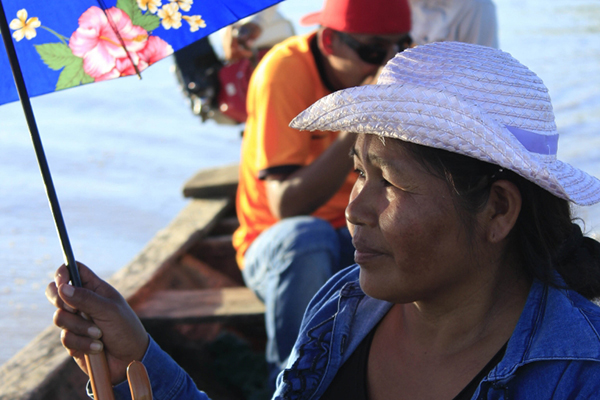 IDFA Logline: Beneath the waters of Peru's Amazon lies a world of spirits led by the Karuara, the 'people of the river'. A brave Indigenous woman confronts powerful interests to save her river and these sacred beings.
Co-directors Miguel Araoz Cartagena and Stephanie Boyd, the latter of whom also serves as producer, have completed 60% of the shooting for Karuara: People of the River prior to global stay-at-home orders were implemented. The verité doc will additionally incorporate five animation pieces that equal 15 minutes of total run time.
From a production standpoint, the team has raised 75% of the funding required and hope to finalize the project for delivery in 2022. The filmmakers attended IDFA in search of funding, but also sought opportunities for "creative impact."
Kicking off the conversation was POV's Nagan, who began by commending the filmmakers for their approach to the environmentally focused subject matter. Pointing to the immersive nature of the doc, Nagan said she was interested in seeing "how the characters, the region and the water will develop over time."
Karuara, Nagan said, "could be a 'POV' film and I would love to talk further."
Lisa Valencia-Svensson of the Hot Docs-Blue Ice Documentary Fund, meanwhile, posed a question to Boyd about what the exact process the filmmakers would be employing to ensure that the point of view of Indigenous communities will "truly be incorporated from the inside out."
Boyd noted that Araoz and herself had been working collaboratively on this film for six years, working very closely with the Indigenous communities filmed.
"We've already shown them footage and some edited scenes. We've shown them the first trailer and got their feedback. We ensure that they're accepting of everything we produce," Boyd assured. "The film will not be closed without their approval. [There are] six Indigenous language teachers as consultants on the film in addition to Leonardo (Tello) being associate producer."
Despite the Peruvian Amazon being a world apart from Japan, NHK's Yoko Imai said Karuara: People of the River would build a strong connection with the Japanese audience. "The way both cultures cherish nature; the ancient Japanese believe each element of nature has its own spirit," Imai explained. "I do see strong themes – we should have a one-on-one meeting."
Finally Arno Becker, senior commissioning editor and buyer at RTL, was also hoping to set up a private meeting with the filmmakers, noting that the issue of environmentalism is one that fits well with the key demographic at the German broadcaster. "What I like about your project is that your point of view is clearly established; you have a very clear idea of what you want the viewers to take with them while they're watching the film – that's very good."
ANCHOR BABY
Director: Ana Veselic, Jessica Chermayeff
Producer: Jessica Chermayeff, Ana Veselic, Isabel Castro
Production company: Cousins
Country: United States
Production status: In production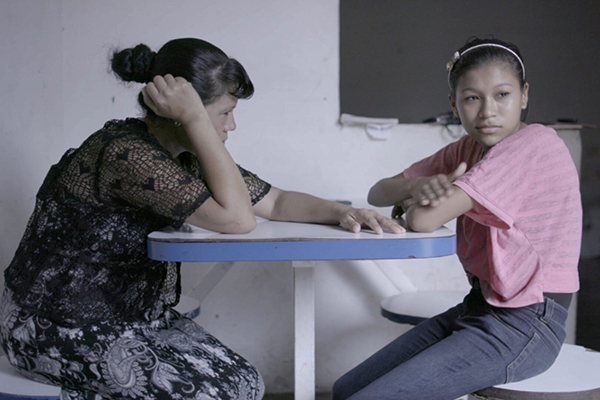 IDFA Logline: A teenager's flight from Honduras, through Central America suddenly snaps into focus when she gives birth on U.S. soil — launching an epic coming-of-age tale of assimilation in America.
Anchor Baby is a feature documentary that began in 2015 when director Jessica Chermayeff was in Mexico working in collaboration with the New York Times to report on the Central American migration crisis. The project will explore the psychology of assimilation as seen through the eyes of a young adult, from when she was a fresh-faced 16-year-old new to the U.S., to the current day as a 23-year-old new mom pleading her case in front of an immigration judge. To tell the story of the film's hero, the project incorporates vérité footage with dramatic reconstructions that will chart her path to adulthood.
The filmmaking team – which includes Chermayoff's wife Ana Veselic and award-winning producer Isabel Castro – are currently in advanced production and are seeking funders, co-producers, and various partners to help finalize the project for a late 2021 release.
One of the judges noticeably excited by the pitch and subsequent trailer was POV's Nagan, who found the film's hero to be a "very compelling character." While there are have been many documentaries on the migration and refugee crises, Nagan explained that Chermayoff and Veselic's intimate approach can bring new attention to the issues.
It was a similar theme for the panel of experts who found the pitch embraced a rich coming-of-age story, with Mandy Chang of BBC 'Storyville', Impact Partners' Jenny Raskin and IDA's Kilmurry each praising the female filmmakers and their subject.
Despite supporting another film dealing with similar migration issues in Europe, Chang believed that Anchor Baby "could be a fantastic companion piece" due to its focus on immigration throughout America.
"The footage you've captured looks extraordinary and beautiful," Chang stated. "She's a clearly a really compelling character that has a lot to tell us about modern migration and how people assimilate despite the difficulties they face. I'm looking forward to talking to you."
Meanwhile Kilmurry, who is familiar with the project, was "glad" to see that a derogatory term had been selected for the film's title, adding that he was interested in seeing how the filmmakers were planning on turning the pejorative word on its head.
"I do think there will be a community out there that will see that title as confirming that derogatory narrative, and I know you're thinking about that but I would love to get deeper into that with you," Kilmurry said.