Realscreen concludes its coverage of the International Documentary Film Festival Amsterdam (IDFA) Forum with the third installment of our full report, covering the final batch of pitches that were virtually delivered on Wednesday (Nov. 18).
Notable filmmakers in the selection include Maria Ramos, pitching the investigative project Justice Under Suspicion, on state rule in present-day Brazil; while emerging directors Meena Nanji and Zippy Kimundu introduced their project Testament, which traces the colonial atrocities of Kenya.
Organizers of the event also unveiled the award winners of the IDFA Forum, DocLab Forum and Rough Cut categories during an online ceremony on Nov. 20.
Picking up the IDFA Forum Award for the Best Project and a €2,500 (US$2,967) cash prize was the Colombian film Alis (working title) from Nicolas van Hemelryck and Clare Weiskopf.
The jury commented: "The filmmakers' aim to facilitate, capture, and show the process of empowerment of young female protagonists coming from the harshest life conditions in the streets of Bogota. The filmmakers' artistic vision is organically connected with an original and playful method in documentary filmmaking by using imagination. We believe there is a great potential for a film giving audiences a chance to empathize and grasp that there really is a hope for a better future."
The €1,000 IDFA Forum Award for the Best Rough Cut Project went to Farah Kassem's We Are Inside, while a special mention in the category was handed to Brazilian filmmaker Maria Ramos for her political investigation, Justice Under Suspicion.
Meanwhile in the IDFA DocLab Forum, Sacha Wares was feted with the Best Project Award, worth €2,500, for her UK-Canadian project Inside: A Journey into the World of Outsider Artist Judith Scott, which brings to life the biography of fiber sculptor Judith Scott through installation and virtual reality film.
The jury also provided an honorable mention to Aubrey Heichemer's project The Pulp.
The below offers an overview of some of the projects pitched on Day 3 of the IDFA Forum, with feedback from commissioning editors and decision makers.
Part one of this report can be found here, while part two can be found here.
ALIS (working title)
Directors: Nicolas van Hemelryck, Clare Weiskopf
Producers: Nicolas van Hemelryck, Clare Weiskopf
Executive producer: Nicolas van Hemelryck, Clare Weiskopf, Charlotte Uzu, Lise Lense-Møller, Alexandra Galvis for, Heino Deckert
Production companies:Casatarantula, Les Films d'Ici, Magic Hour Films, Pantalla Cines, Ma.ja.de Filmproduktions
Countries: Colombia, Germany, Denmark, Chile, France
Production status: In development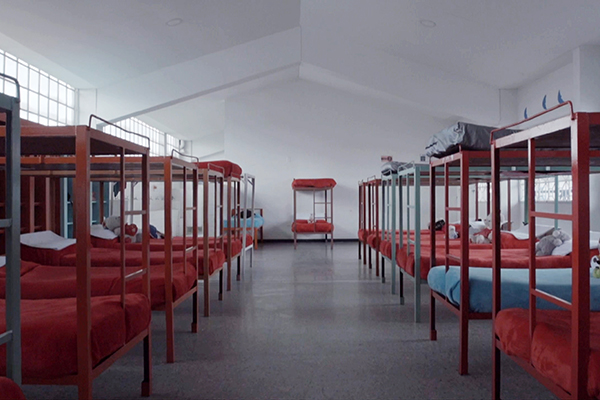 IDFA Logline: Eight teenage girls who lived on the unforgiving streets of Bogota, close their eyes and dream up Alis, a fictional character. Their soulful narrative reveals an amazing perseverance to break the cycle of violence and embrace a better future. 
Alis is currently in an advanced stage of development and has the backing of the Sundance Institute and the Catapult Film Fund. Filmmakers Nicolas van Hemelryck and Clare Weiskopf expect to begin shooting in March and hope to deliver the project by the end of 2021. They're also seeking grants, funding support, production partners, as well as partners on the platform, broadcasters and distribution fronts.
All rights to Alis are available.
The Sundance Institute's Carrie Lozano began by praising the directors for their film's creative approach. "We have so much confidence in Claire and Nico," she said. "Transferring [these girls'] trauma to a composite character allows the girls to shape their own narrative while pushing the boundaries of the documentary form."
Debra Zimmerman of Women Make Movies echoed Lozano's comments by stating her team was excited to be partnering with this filmmaking team, helping them acquire further grants. "I also think it's an incredible project both for its empowering element and creative ability," she added.
For Mandy Chang at BBC 'Storyville,' the excitement for the project was palpable. Notably, Chang "loved the positivity of this film" because it's not focused on viewing these girls as helpless victims, but rather the viewer is imagining a brighter future for the group. "I'm always looking for films that push documentary boundaries," she said.
Also enthusiastic about the approach taken in Alis was Yoko Imai of NHK Japan who appreciated the "creative unique approach" employed throughout the trailer. "Although the environment is very far from Japan, I believe it would resonate with our viewers," Imai stated. "I believe our viewers would get attached to the protagonist as soon as they start to link the stories."
Nathalie Windhorst of Dutch pubcaster VPRO shared similar sentiments with her colleagues, though she was concerned that the filmmakers still planned on adding "new layers", further stating: "It's almost a shame you would leave this environment of girls just sitting in a chair, but I understand you need it to tell a bit more than just having them imagine this classmate. I'm curious to see how you combine such strong images with the scenes where you see them in their daily lives."
TESTAMENT
Directors: Meena Nanji, Zippy Kimundu
Producers: Meena Nanji, Zippy Kimundu, Elaine Ferreira
Production companies: Twende Pictures, Afrofilms International, Muiraquita Films
Countries: United States, Kenya, Portugal
Production status: In production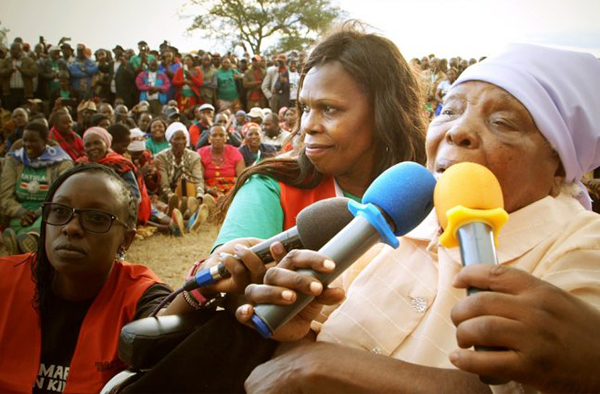 IDFA Logline: Wanjugu Kimathi, a powerful African woman, leads a struggle for narrative and economic justice in Kenya, by exposing long-buried colonial atrocities and building a nation-wide grassroots movement for land reparations. 
Director-producers Meena Nanji and Zippy Kimundu and producer Elaine Ferreira arrived virtually on day three of the IDFA Forum with early support from the IDFA Bertha Fund, Hot Docs, IDA Enterprise Documentary Fund, AfriDocs, Docubox – The East African Documentary Film Fund, and Afrofilms International.
The team are currently in the last days of filming and are continuing to follow Wanjugu's struggle, which has now expanded beyond Kenya's borders.
For Simon Kilmurry, executive director of the International Documentary Association, Testament serves as a personal reminder that history should not be sugar coated. "The history of British colonialism is still shrouded in nostalgia and romance, but the reality is much more brutal than that. This film is an important act of reclaiming the true history of Kenya and peeling back the brutality of that legacy of British colonialism."
The IDA has previously supported this film with a development grant, and more recently a production grant.
ARTE France's Mark Edwards echoed Kilmurry's comments, stating that the history of decolonization has become an enormous issue in France but with a focus on French-speaking Africa.
"This kind of project is exactly what we need to be doing today. To be able to bring a better awareness of English colonization in Africa to a French-speaking audience. The land-rights issue makes it contemporary, compelling and present. I thought it was a wonderful pitch and will definitely follow up."
LOVING HIGHSMITH

Director: Eva Vitija
Producers: Franziska Sonder, Maurizius Staerkle Drux, Carl Ludwig Rettinger
Production companies: Ensemble Film, Lichtblick Film
Countries: Switzerland, Germany
Production status: Last stage of production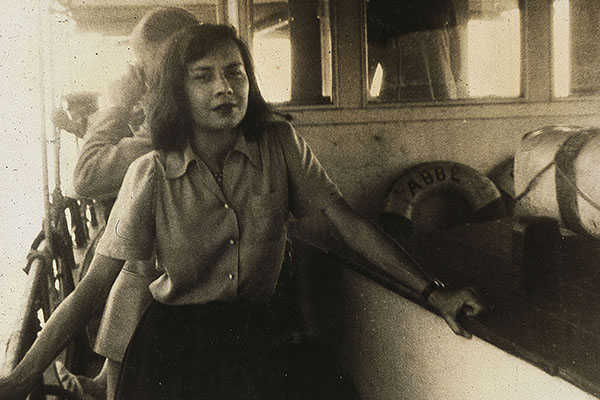 IDFA Logline: Based on Patricia Highsmith's personal writings and accounts of her family and lovers, the film casts new light on the famous thriller writer's life and oeuvre, permeated by themes of love and its defining influence on identity.
Loving Highsmith (main image) is currently in the advanced editing stage and will utilize plenty of radio and TV interviews with seminal author Patricia Highsmith, as well as a wide array of photo archives and unpublished texts from her diaries that aim to lead viewers throughout the film via voiceover. The filmmaking team is currently in talks with Blue Jasmine and The Aviator actor Cate Blanchett to bring to life one of the most fascinating female writers of the 20th century.
Swiss broadcaster SRF and Germany's ARTE-ZDF are currently on board for the film. The team also has distributors attached in both territories, but were at IDFA in search of suitable sales agents and global distribution.
The filmmakers are hoping to release Loving Highsmith in early 2021 to mark what would have been Highsmith's 100th birthday.
Jenny Westergård of Finland's YLE kept her commentary to a minimum, wasting no time to explain that she could see many possibilities for this film. "It has so many interesting themes, and I probably will be in on this film. I'm looking forward to our meeting later on."
Knowledge Network's Rudy Buttignol signed off on Westergård's assessment, stating that Loving Highsmith is a perfect fit for the British Columbia broadcaster, adding, "I'd love to be involved and support it". Rai Italy's Fabio Mancini shared similar thoughts, stating: "I want to see the rough cut and I want to talk because I think it's perfect, even in primetime for Rai," he said. "It's the perfect hook for a big audience."
JUSTICE UNDER SUSPICION
Director: Maria Ramos
Producers: Jose Buarque Ferreira, Nidia Santiago, Aliona van der Horst, Ilja Roomans
Executive producer: Silvia Cruz
Production companies: Nofoco Filmes, Vitrine Films, Ikki Films, Docmakers
Countries: Brazil, France
Production status: Start production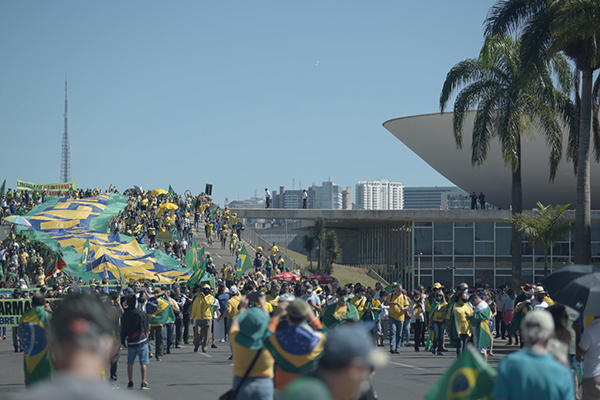 IDFA Logline: Brazil is flirting with fascism. Three journalists from the newspaper El País investigate this dangerous evolution and the decisive role the judiciary plays in this process.
Director Maria Ramos gathered virtually on Wednesday alongside her filmmaking team – alongside French and Dutch co-producers Ikki Films and Docmakers – to present her latest film, Justice Under Suspicion to a room of commissioners and financiers at this year's virtual IDFA Forum.
Production work on the project has already begun, and the team hopes to find financial support in the form of coproductions and from broadcasters and streamers.
Mark Edwards at ARTE France was the first to offer his feedback to the filmmaking team, noting that in his eyes Justice Under Suspicion is a film about the abuse of the justice system.
"That's a great choice because the issue of justice systems that are no longer independent will be a big issue in countries like Poland, Hungary and particularly in the U.S.," he said. "If this film can promise, in a deep way, to show how a justice system that's not independent of political power can do great, great damage, then I think it's a universal story. It's a hard thing to make universal at the first take and it's a challenge to bring us in, so I think you have a little seducing of the rest of the world but I think it's an important subject."
Willemien Van Aalst said the Amsterdam-based Human was interested in supporting this film, and wanted to speak to Ramos and her producing team because she was "curious about the personalities of the journalists involved and the way the documentary is structured."
Carina Bordewich at NRK, meanwhile, said that while the topic suits the Norwegian pubcaster, the challenge would be to transform the 90-minute film into a story that Norwegian audiences can easily follow.
ONE IN A MILLION
Directors: Jack MacInnes, Itab Azzam
Producers: Jack MacInnes, Itab Azzam
Executive producer: Will Anderson, Andrew Palmer
Production companies: Keo Films
Countries: United Kingdom
Production status: In production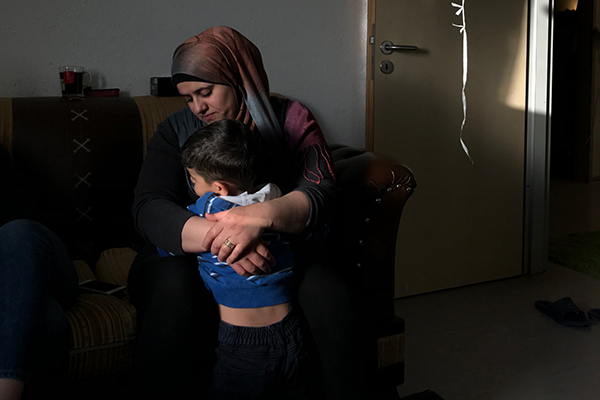 IDFA Logline: Against the backdrop of the largest migration since WWII, we follow one girl's turbulent transformation from an 11-year-old selling cigarettes on a Turkish street into an 18-year old German woman.
One in a Million, a migration-focused observational documentary that showed the "real truth behind the headlines without offering easy answers", was presented to a virtual panel of commissioners and financiers by Exodus: Our Journey to Europe helmers Jack MacInnes and Itab Azzam.
Filming on the project began five years ago, and the filmmaking team plan to shoot for an additional two years, with delivery expected by 2023. MacInnes and Azzam are planning to release the film theatrically followed by a broadcast window.
The film has the backing of Mandy Chang at BBC 'Storyville', with interest from WDR in Koln, Germany, and the directors are hoping to secure an additional £400,000 in order to complete the film. They are keen to speak with international funders and coproduction partners who can help plug their funding gap.
"The team on this film are working with one of the most successful documentary companies in the UK and a really seasoned exec in Will Anderson from Keo Films," gushed Chang. "I want to support this film with them, not just because of their commitment to the story and their access, but also because it does deal with the one of the biggest issues of our times. But it does go beyond a refugee's journey; tracing in intimate detail how one young girl becomes a woman. It's going to be a real film for our times."
Sharing Chang's enthusiasm for the film was Axel Arnö at Swedish broadcaster SVT, who bluntly stated that he most definitely wants to be involved in this project. "If I cannot give you the £400,000, I will certainly work towards getting you that money. This is a film that should be shown all over Europe, it's such an important issue. Come to me and I'll try to give you everything I have."
Finally, 'POV' and American Documentary's Chris White said he was interested in seeing more from the project, but agreed that One in a Million shared all of the elements that make for a great 'POV' film.
"I'm particularly interested in the dynamic between Isra and her mother, and how that evolves over time," White said. "It seems like her mother finds a sense of freedom and independence in Germany, and as Isra begins to turn back to traditional Syrian customs, I'm fascinated to see how that relationship will play out."