The call for entries is now on for the 10th edition of format competition Formagination, from Armoza Formats in partnership with Realscreen.
The competition, open to anyone with a great format idea, will be held at the upcoming in-person edition of the Realscreen Summit, taking place in Austin, Texas in January of 2022.
Three prizes (which don't include travel and lodging expenses) will be awarded at the live presentation of Formagination at Realscreen Summit, as follows:
1st place winner: up to US$25,000, which shall be awarded in TWO STAGES ($5,000 for further development of the idea for format, and up to $20,000 that may be invested by Armoza in further development of the idea for format), as well as one (1) registration to Realscreen Summit 2023.
2nd place winner: an Entertainment Master Class module scholarship and one (1) registration to Realscreen Summit 2023.
Audience favorite: one (1) registration to Realscreen Summit 2023.
The formats eligible for the competition should include the following criteria:
Genre – non-scripted format (no scripted formats or children's programming will be accepted, cross genre elements are possible).
"Game-changing" Concepts – fresh and creative ideas that create a buzz and stand out, no matter the genre or the type of show.
Unique Format Elements – what are the distinct elements that make up the DNA of your concept? Make sure to highlight what sets it apart from other formats — whether it's the studio, mechanics, set, gameplay, or visual elements.
Repeatability and adaptability – a truly successful format can sustain multiple seasons across different countries.
Launched in 2010 by the Israeli format house, the first seven years of the competition focused on local talent in Israel. Over the span of the contest, winning formats have since gone on to air in various territories, including Sex Tape, which was part of the 2016 competition and is now in 11 territories and Marry Me Now, which was launched in the 2015 competition and has aired in nine territories. The 2019 winner (pictured, below), The Senseless Dating Show, was launched internationally in the fall of 2020.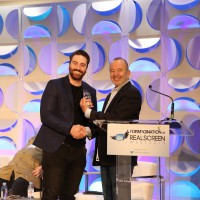 "As a key player in the industry, we see it as our obligation to open the door to young and upcoming creators to bring their unique and innovation ideas and for 10 years, Formagination has been doing just that," said Avi Armoza, CEO of Tel Aviv-headquartered Armoza Formats, in a statement. "Through the platform that the competition provides, we have been able to turn some incredible ideas into international format brands. Together with our partners at Realscreen, we look forward to finding the next big idea at Formagination 10 at Realscreen Summit."
For more information on the Formagination at the Realscreen Summit, visit the official entry page here. The deadline for entries is Friday, September 10 at 5 p.m. ET.