At long last, after a couple of pandemic-related pivots into the virtual conference realm, the Realscreen Summit returned as a bona fide in-person event last week.
Making its debut in beautiful Dana Point, California, this year's edition — held from June 6-9 — brought together approximately 1,250 delegates from around the world for an inspired mix of panel sessions, keynotes, pitching opportunities and of course, networking aplenty (and even a little bit of whale watching on the final day).
With planning underway now to bump it up a notch for our 25th anniversary edition in Austin from January 23 to 26, we wanted to offer one last look at our "almost summer Summit," with some highlights:
The whole shebang kicked off with a "View from the Top" courtesy of top non-fiction content executives like Warner Bros. Discovery's Amy-Introcaso Davis, A3 Artists Agency's Robyn Lattaker-Johnson, A+E Networks' Elaine Frontain Bryant and World of Wonder's Fenton Bailey (pictured above, from left to right, with moderator Barry Walsh of Realscreen at far left). The lively conversation, frequently punctuated with humor thanks to Bailey, touched on a variety of issues affecting the unscripted community today. The discussion ranged from "streaming vs. linear" (key takeaway: take the "vs." out of the equation, as today it's all about coexistence of the mediums), to developing a new sense of collaboration between networks and production companies. And with the battle for premium content in high gear among buyers, the always thorny issue of rights ownership also came up, with Bailey using World of Wonder's ownership of the RuPaul's Drag Race IP as a vital component of the series' evolution and success.
Exciting, if perhaps somewhat mystifying, advances in technology and their impact on unscripted content were discussed in at least two different sessions at the Summit. "Reality Refresh," moderated by Ample Entertainment's Ari Mark, brought together such producers as Glass Entertainment Group's Nancy Glass, Bunim/Murray's Rupert Dobson, DSP's Donna Clark and a network executive in Magnolia's Lauren Frasca, to discuss the need to breathe new life into the genre periodically, and the various approaches taken to do so. Dobson, for his part, pointed to the creative and financial potential of NFTs as an area worth exploration.
"We've got a show at the moment that hit a roadblock [when] it came to the funding," he remarked during the session. "Now we're looking at the funding through tech, and then potentially taking it back to that platform at a fraction of the cost, so we [could] potentially license that show to the platform that wanted it in the first place. It's going to be at a reduced cost, and then we get to retain a lot of the IP."
Another session, titled "Future Factual: Tech Trends," took an even deeper dive into the tech space, with moderator Raja Khanna from Toronto-based Dark Slope guiding his panelists — Sator's Christina Martin, Blockchain Creative Labs' Jamal Dauda, Remarkable Television's Kitty Walshe and Bunim/Murray's Steve Ezell — through a discussion that touched on virtual production, Web3, the Metaverse, funding through the blockchain and yes, NFTs. In the end, panelists agreed that tech innovations need to serve stories, and not the other way around.
"There's a reason why the new Top Gun film so much of the footage is from the cockpit," Walshe said. "It's to give the audience that feeling that they're in there. That's what we're going."
Pitching competitions made a grand return to the Summit this year with two sessions dedicated to unearthing great new ideas in the unscripted and formats spaces. This year's Summit Showdown saw A&E and HGTV return as presenting partners, offering development deals of US$20,000 to the projects they found to be the best fits for their nets. This time around, A&E gravitated towards the true crime project The Price You Pay from Tim Grady and Frank Carlisi of Tim Grady Films, and HGTV was enamored with the sustainable housing adventures within Earthships from Lottie Naughton-Rumbo. Host Carson Kressley (Queer Eye, RuPaul's Drag Race) kept the audience engaged and in stitches throughout, and it remains to be seen if event organizers will take his suggestion to rename the session as "Pitch, please!" to heart for next time.
Meanwhile, the 10th edition of Formagination, the Summit's live formats pitching competition presented in partnership with Armoza Formats, crowned Family Ties or Lies from Vancouver-based BRB Studios, as this year's champion. The concept sees pairs of siblings – some of whom are actually related, some of whom are strangers pretending to be – competing in a house for prize money, with both other contestants and viewers at home trying to discern who's really related and who's faking.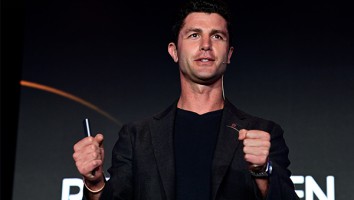 Keynotes were thought-provoking and thoroughly entertaining, with producer, author and motivational speaker Ben Nemtin returning to the Realscreen Summit for his first time in several years — this time, not as a delegate but as a source of inspiration for those assembled at the event. Drawing from his experience as one of the creators behind the groundbreaking MTV series The Buried Life, Nemtin urged audience members to contemplate one question — "What do you want to do before you die?" — and to develop goals that serve others as well as one's self. According to Nemtin, producers of content are well suited for the latter, as the programming they create can have a potential positive ripple effect upon audiences and, in turn, society.
An exploration of how representation of diverse communities has evolved in unscripted programming came via a keynote conversation with Scout Productions' David Collins and Rob Eric, HBO Max's Jennifer O'Connell and Dashaun Wesley, host of the Scout-produced ballroom competition series Legendary on HBO Max. Moderated by entertainment journalist Jean Bentley, the discussion covered the process behind the creation of Scout's Queer Eye juggernaut (both the original version on Bravo and the Netflix reboot) and how that series has paved the way for Legendary and other series spotlighting LGBTQ+ characters and culture.
A comprehensive case study of Netflix's Deaf U also brought the concept of representation to the fore. Moderated by Lauren Applebaum of media advocacy organization RespectAbility, the session — featuring Hot Snakes Media's Eric Evangelista, Warner Bros. Discovery's Naimah Holmes and Hot Snakes' head of legal and business affairs Todd Shill – examined the process of bringing the series, which features a cast of deaf or hard of hearing college students attending Gallaudet University, to life and the advantages of expanding production teams and casts to more accurately reflect the population at large.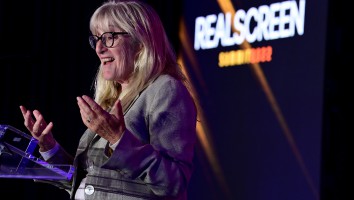 Realscreen's most recent inductees into its Hall of Fame — Nutopia creator and producer Jane Root (pictured, above) and A+E Networks Group president and chairman Paul Buccieri – were also celebrated at the event in a special ceremony. While Buccieri wasn't able to attend, his career achievements were spotlighted in a tribute from Critical Content Studios' Jenny Daly, and a reel featuring various executives from the extended A+E family and beyond. Root, meanwhile, was honored with a speech from longtime friend and producer peer Abby Greensfelder of Everywoman Studios, and a reel featuring salutations from a diverse range of well-wishers, including Warner Bros. Discovery topper David Zaslav and actor Jeff Goldblum, among others.
Explorations of ethics in documentary, the explosion of sports content, and new adventures in coproduction and M&A also graced the agenda this time around. This year's Summit also featured, for the first time, a new track dubbed "Genre Jams," which brought together producers and network execs from assorted non-fiction genres — including true crime, natural history, food and travel/exploration — to provide comprehensive looks at what's working in those particular spaces.
With the June Summit now consigned to history, organizers are now gearing up to plan the 25th edition of the event, taking place in Austin from January 23-26. Stay tuned for more info as it develops.