A plethora of non-fiction content will land Cannes during the 33rd annual MIPCOM market, running Oct. 16-19. Ahead of the excitement, realscreen presents part two of our round-up of titles heading to the Croisette. Check out part one of our Shopper's Guide here, with a third and final portion to be posted tomorrow.
Electus International
Electus International will bring a slate of series in the food, adventure and comedy genres, and more as well as major network formats to the industry festival.
Among the highlights are Critical Content-produced Who Shot Biggie & Tupac?, which aims to uncover the truth behind these murders and whether or not police corruption, gang connections or even rap rivalry played a part in their deaths. The 1 x 120-minute special features interviews with former private investigators, police officers, informants and hip-hop insiders, including Doug E Fresh, Funkmaster Flex and former Death Row Records executive Suge Knight.
In Carlito's Cooking Adventures chef Carlos Cham fuses Asian-Mexican cultures in his cooking. Cham invites the world to enter his kitchen restaurant in Pescadero to get a taste for life Cham's way. (S1:7 x 30, network pending)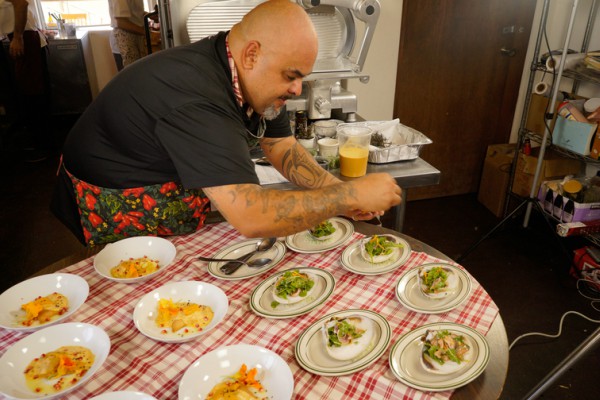 Carlito's Cooking Adventures
Additional series include Last Resort, The Toy Box, How It Really Happened, Running Wild with Bear Grylls, Adam Ruins Everything, Mom v. Matchmaker and more.
Endemol Shine Group
Global producer and distributor Endemol Shine Group brings a slate of new entertainment formats to France.
From Endemol Shine UK is the new series All Together Now. Each episode sees a range of performers take to the stage to perform in front of an audience of 100 great singers. If any of the 100 like what they hear, they can stand up and join in. The greater the number that sing along, the higher the contestant's score. At the end of the show, the two highest-scoring performers progress to the grand final for one final performance.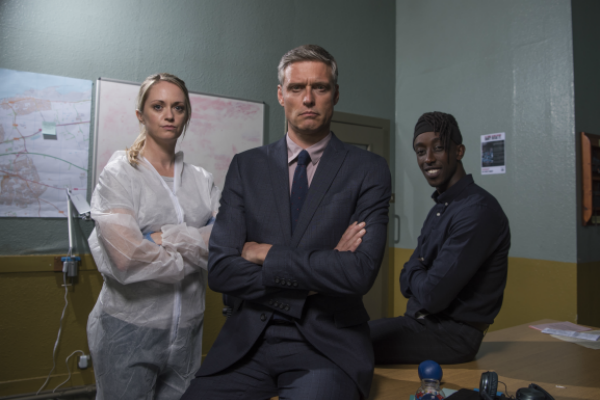 Armchair Detectives
Also bowing at Cannes this year from Endemol Shine UK is Armchair Detectives. The program combines a murder mystery drama with a game show.
Both of these series will have their initial broadcast on BBC1 in the UK.
Also in the Endemol Shine Group line up, this year is Family Food Fight, a competitive cookery series from Endemol Shine Australia. The series will broadcast on the Nine Network in Australia.
Flame Distribution
The Sydney-based company is launching over 200 hours of new content at MIPCOM with a slate spanning factual, lifestyle and reality and documentary content from the U.S., Canada, UK, Ireland, Australia and New Zealand.
Some titles include Scrap Kings, Back2Back's new series that follows demolition teams as they blast, crush and smash their way through dilapidated structures; The Lion Queen (Top Shelf Productions), which sees Andi Rive relocate her lion sanctuary to South Africa; Real Future (Fusion Media), a science-focused series that looks at the latest technologies being developed and how they will impact our future; Bike World (Bike Channel), a series made for people passionate about motorbikes; A Stitch in Time (BBC Studios), which gives a glimpse at history as the clothing of prominent figures is recreated revealing stories of the societies in which they lived.
Docs featuring at Cannes include The Dinosaur Echo (Brandy Y Productions) which spotlights the renaissance of palaeontology today and what dinosaurs can teach us about climate change; Dark Secret (Moondance Films) exposing the cover up of American church child abuse; War/Peace (Greenlit Productions) about the radical political movement The Weathermen in the 60s and its relevance today; Frank Lloyd Wright: The Man Who Built America (Wildflame Productions), which examines the life and work of the visionary architect; The Surgeon & The Soldier (Serendipity Productions), a true story celebrating the friendship between an Iraqi refugee doctor who helps an ex-soldier to walk again; and Data Mining the Deceased (Past Productions) explores the bigger picture behind the ancestry industry.
Fox Network Group Content Distribution 
Fox Networks Group Content Distribution (FNGCD) will debut a slate of more than 70 new titles across almost 550 new hours in Cannes this year.
Diana: In Her Own Words (1 x 120), produced by 1895 Productions for National Geographic, features rarely and never heard recordings of Princess Diana. Made in 1991, these tapes reveal her intimate and candid viewpoints on various subjects.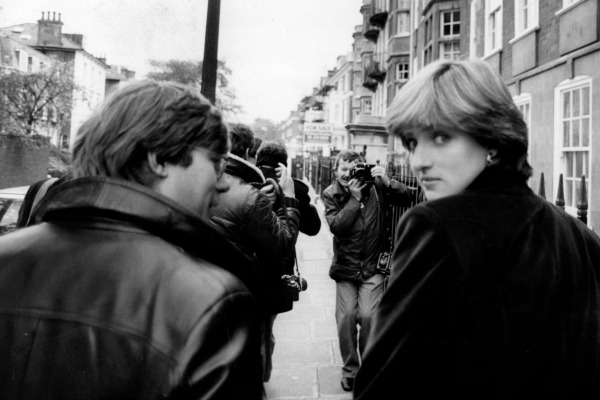 Diana: In Her Own Words
Dian Fossey: Secrets in the Mist (3 x 60) uses extensive archive footage,  interviews and personal correspondence, to tell the story of Fossey's incredible life, legacy and untimely death.
Hell on Earth: The Fall of Syria and the Rise of ISIS (1 x 120), executive produced by Sebastian Junger and Nick Quested, is a new feature-length doc that chronicles Syria's descent into chaos that allowed the rise of Islamic State in Iraq and Syria. Year Million (6 x 60) is a new docudrama hybrid science series that explores what it will be like to be human one million years from now, while When Nature Calls (6 x 60) follows six professional animal wranglers across the U.S.
Fox also brings to Cannes a number of new formats. For MIPCOM, Grilled is a 10 x 60-minute competitive format that pits food entrepreneurs against one another in a bid to win seed funding to start their own business.
Design HQ is a hosted format from Condé Nast Productions that visits celebrity houses for transformation tips and makeover advice. Finally, in the competitive adventure format Mygrations from October Films, a 'herd' of humans follow the intense six-week course of the annual wildebeest migration in Africa, undertaking a range of challenges before they reach the Mara River.
Gil Formats
Tel Aviv-based content creator and distributor Gil Formats and South Korea's CJ E&M recent copro deal has resulted in the project Kids in Power, which will bow at the industry event.
Kids in Power is a social experiment format which aims to transform the lives of families with badly behaved children. Over the period of one week, families reverse roles with the parents, delegating absolute authority to children on all matters of the household. The experiment is observed by the two experts both will give their insights on the different situations created by the experiment to help bring about positive family change.
The Korean version of the format aired on CJ E&M's flagship channel tvN.
Global Agency
Independent TV content distributor Global Agency will be bringing the singing competition series Music Masters to industry leaders in Cannes.
In this series, eight contestants are challenged to keep their spots in the 13-week long contest for as long as they can. The two contestants with maximum points are announced at the end of the episode and battle each other in a duet for the weekly prize money and the big finally where there is one chance to win US$1 million.
Hat Trick International
UK indie distributor Hat Trick International has acquired a roster of factual content for launch this autumn from partners including Keo Films, Plum Pictures and Emporium Productions.
Produced for BBC2 for broadcast in 2018, the three-part series Exodus: The Journey Continues returns to look at the plight of migrants as they try to reach Europe in search of a better life.
Additional new Keo Films content includes Eden: Paradise Lost (6 x 60), a series that shows 23 men and women who left everyday life behind to start anew in a remote part of the British Isles, only for their dream to sour and A Year on the Farm (4 x 60), providing a glimpse into the rural dramas of rearing high quality produce.
Hat Trick International's exclusive representation deal with factual and entertainment specialist Plum Pictures continues with the launch of brand new title Serial Killer with Piers Morgan (3 x 60), follows Morgan as he sits down with men who have carried out some of the most unspeakable crimes imaginable.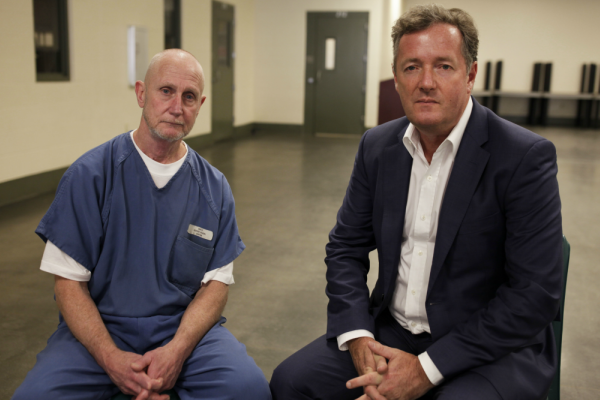 Serial Killers with Piers Morgan
Plum Pictures' new four-part series Cabins in the Wild produced for Channel 4, sees the return of George Clarke's master craftsman Will Hardie with engineer Dick Strawbridge as they follow a competition to build a pop-up hotel made up of eight very different wilderness retreats.
Also headlining Hat Trick International's factual slate is Emporium Productions' Click for Murder, a chilling ten-part series for CBS Reality which exposes the darker side of the cyber world.
Insight TV
Insight TV's seven-part reality series Thru will be available to broadcasters and production companies at MIPCOM.
In the series, teams'trek across harrowing landscapes following a straight line from point A to point B. Each team starts at opposite ends and travels in opposite directions. They face challenging obstacles by traveling directly over, under, and through buildings, drop-offs, swamps and pools. The team that takes treks the shortest route will be the team that survives and thrives.
ITV Studios
ITV Studios (ITVS) brings to Cannes a slate of new formats.
Series seeing their debut in Cannes include Big Star Bigger Star (12 Yard for ITV), a spin-off from 12 Yard's Big Star Little Star. The series sees the parents of some famous faces reveal what they were really like growing up and how they really behave when the cameras stop rolling.
CelebAbility (Potato for ITV2) features a team of five friends who challenge five celebrities across five rounds of different games for a cash prize. Cram (Possessed/ITVS Australia for Network 10 Australia) is a new comedy panel quiz in which two teams go head-to-head answering questions on unique subjects that tests their memory.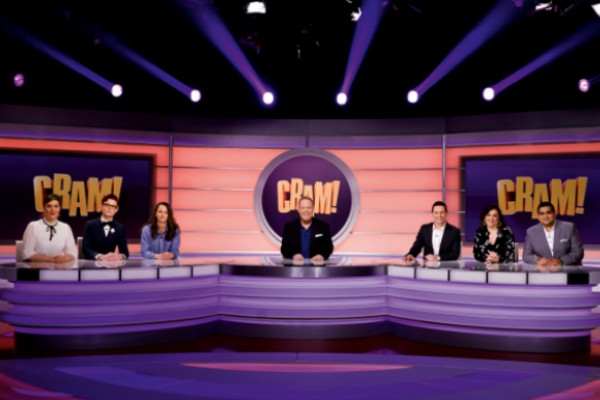 Cram 
Dress to Impress (ITVS Entertainment for ITV2) is a dating show where the contestant picks a potential suitor based on their fashion sense.
A host and team of experts takes one family per week under their wing to help change their lifestyle habits without breaking the bank in Eat, Shop, Save (Shiver for ITV).
Eighteen (Arton) for ITVS Sweden for Dplay (Discovery) equips a group of young adults with cameras as they finish their last months of school and leave their childhood behind and prepare for adulthood.
In Keep It Or Cash It (Imago for RTL2), experts try to help couples whose relationships are under threat from one partner's obsessive collecting habit. In 'Made In…', (TVS Entertainment for Dave) one famous face is stripped of everything they own that has not been made in their home nation. They are then challenged to go find the top products of their home nation.
Name Your Price ( ITVS Entertainment for ITV) is a game show which features three pairs of contestants who judge the potential value of objects for a cash prize. The Hospital (Label1 for BBC2) provides a snapshot of the healthcare system from those who are running it.
Kabo International
KABO International alongside Distributions Avanti Ciné Vidéo will be presenting the true crime docuseries Solved! Forensic Police Files (30 x 45) at MIPCOM. The series involves expert testimony and dramatic re-enactments, taking audiences to the heart of police investigations where science plays an integral role.
KABO will also be presenting On Duty 24/7 (24 x 23 and 8 x 46) to international buyers. The series takes viewers behind the scenes of a busy hospital to witness first-hand the challenges the doctors and their teams face.
Keshet International
The global distribution arm of Israeli media company Keshet Media Group will bring a new range of original formats to MIPCOM. 
Domination, a prime time game show (5 x 30/60+1 x 100) recently launched on Keshet Broadcasting. The show sees a player in the studio test their general knowledge, picking their battles against different groups from the rest of the country – from taxi drivers to tinder users.
Meanwhile, players at home can test themselves against the contestant and the groups using the show's app. Celebrity Showmance (6 x60) from Keshet UK is a comedy entertainment show which shines a light on the public antics of celebrity couples, social media and fake news and launched on ITV2 on Oct. 4.
From true crime specialists Woodcut Media and Nanny Jo Productions comes Jo Frost on Killer Kids (4 x 60), a taboo true crime series hosted by renowned child behavioral expert Jo Frost which looks into the unsettling circumstances that can lead a child to kill. Crime + Investigation UK will broadcast the series.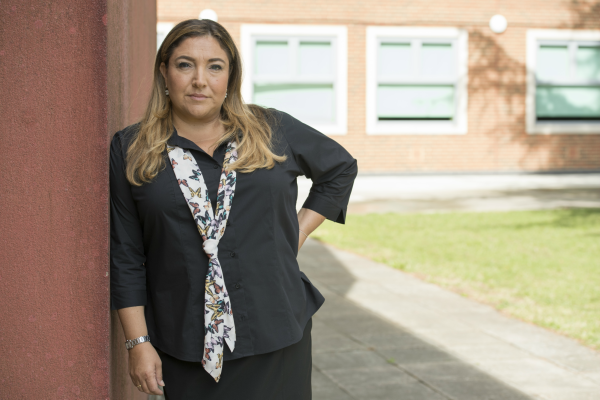 Jo Frost on Killer Kids