In 2014, feminist critic, public speaker and Feminist Frequency founder Anita Sarkeesian was in the midst of a two-year campaign against her that had brought forth an onslaught of targeted online sexual harassment and increased threats of violence.
Prompted by Sarkeesian's YouTube series Tropes vs. Women in Video Games, which examined gender tropes in video games, attackers began flooding the Canadian-American with rape and death threats, hacked her webpages and social media, and doxxed her – the online practice of distributing personal information with malicious intent.
Death threats and anonymous bomb threats targeting her public speaking appearances became more frequent; in October, Utah State University received an email that threatened a 1989 Montreal massacre style attack at her presentation. Sarkeesian canceled the event as Utah's concealed carry laws meant university officials could not restrict those with permits from carrying a firearm from entering.
The situation prompted Emmy-nominated filmmaker Cynthia Lowen (Bully) to begin researching the topic of online harassment directed at women through a documentary project entitled Netizens, which will have its international premiere at the 25th annual Hot Docs festival.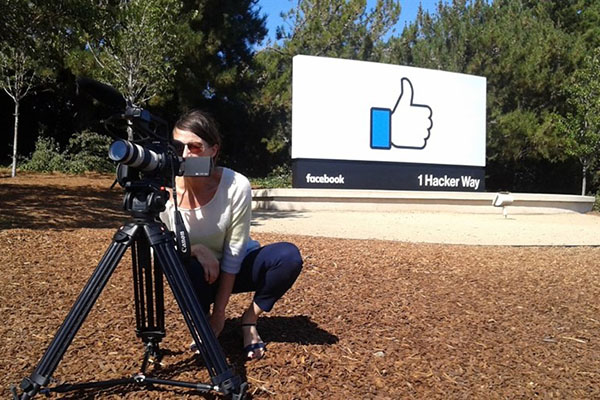 Produced by Train of Thought Productions, in association with Ruth Ann Harnisch and Fork Films, and made by an all-female creative team, Netizens delves into the stories of three women whose lives have been upended by digital abuse as they push for equality and justice. The 96-minute vérité film also looks to depict the many forms digital abuse can take: non-consensual pornography, cyber-stalking, threats of violence, privacy invasions, impersonation and character attacks.
Featured in the documentary are Sarkeesian, who takes on Silicon Valley's passive response to cyber harassment; lawyer Carrie Goldberg, who launches an Internet privacy and sexual assault law firm in the wake of her own cyber harassment; and Tina Reine, whose career was derailed after an ex-boyfriend created numerous reputation-harming websites.
Fork Films' Abigail Disney and Gini Reticker are executive producers, alongside Barbara Dobkins. Lowen and Rebecca Stern are producers, with Steffie van Rhee as associate producer.
Realscreen caught up with Lowen to chat about Netizens ahead of the doc's international premiere at Hot Docs in Toronto on tomorrow (April 28).
This interview has been edited and condensed for clarity and length.
Why do you think online harassment is such an important story to tell at the current time?
Being able to tell this story was really important to me because I wanted to challenge this attitude of, 'It's just the Internet'. The Internet is the Wild West. Turn off your computer and walk away, and if you don't walk away don't be surprised if this is what you find on there. That really does something to our communication, to our communities.
When an individual is targeted, it changes their lives. Right now we're in this real moment where people are recognizing how much power the Internet has to determine things in our society, to determine what our communities look like, to determine who feels safe. Some of these situations are really traumatic, painful situations, and you become very much invested in what happened to the people you're working with. You can't make these films without the radical participation and partnership of the people whose stories you're telling.
In November 2016 you launched a Kickstarter campaign to fund Netizens, and by December you'd reached your US$50,000 target. But can you tell me about the challenges you had in financing this film? 
A real challenge has been fundraising. There are so many fantastic opportunities for distribution, but it remains extremely challenging for independent filmmakers to make these films and to get them to the finish line. It takes a real leap of faith. We've had amazing supporters and the support that I've gotten for the film has been fantastic, but it's always a risk you take when you embark on these projects: are you going to be able to finish this film?
Often, in order to get the grants you need to be able to really show quite a lot of progress. It's really difficult to get funding before you're at a point in your project where you can demonstrate that this project has potential, that you have a story you're going to tell and we're going to have a film here.
I was very fortunate that Fork Films came on when this was still a proposal on paper. Without the faith they had in me as a filmmaker and in the subject matter, I'm not sure I would have been able to start. That, for me, was certainly the green light – we had enough to get started and I could afford to book some flights and pay a cinematographer.
From there, we received earlier grants from NYSCA and I was able to get through the first part of filming on a pretty shoestring budget. I launched the Kickstarter campaign knowing that I had enough footage to start telling the story, and that was the best way to really be able to begin the edit, and also build community.
How have your experiences with Bully informed your work on Netizens? 
The lesson I took from Bully is that the story can really transform attitudes, behaviors and catalyze real change. We really saw that with Bully and the fact that bullying is no longer considered normal. It's still ubiquitous, but I don't think it's necessarily considered a normal, taken-for-granted part of our experiences in school or our workplaces. The film is part of a real sea change on how we think about bullying.
Witnessing that really informed my hopes for this film to be part of changing those norms about what we consider to be normal or acceptable experiences online. We're already working with Picture Motion to develop an impact and engagement campaign.
What's next for you as a documentary filmmaker?
I've been thinking about this quite a bit. For both Bully and Netizens, what's been so important has been spending the time and having this opportunity to see the fullness of people's experiences. Looking ahead, I'm really looking forward to continuing to tell these stories of people who are changing the world in ways that they perhaps are not even aware of in a moment, of exploring how people change the world in the way they're living their lives.
Netizens hosts its international premiere at Hot Docs in the Silence Breakers category on Monday, April 28 at 10 a.m. ET at Toronto's Isabel Bader Theatre. Visit the festival's website for complete screening info.
Check out a trailer from the film below: